The fresh spring air brings life to the dead world winter brought. Along with it comes graduation caps, prom dresses, floral-prints galore, and yes – marriage proposals. Something about the blooming flowers or the transition from one part of life to another catches the spirit of young boys in love; urging them to get down on one knee. It is the season, some say, for a ring by spring.
Getting married young has been around since ancient times – the Greeks are said to have married once girls started their period and boys grew pubic hair. Various reasons called for this: shorter life expectancy, agreement between two households, staying a virgin until wedded (usually for religious reasons), etc. As consent laws came to form, life expectancies grew longer, and sex out of wedlock became less of a taboo, younger marriages obviously saw a decline. So why in this day-and-age are some couples still deciding to tie the knot before they're twenty-five?
"We just knew that like no matter what we were gonna go through, we wanted to be together anyway," explains twenty-three year-old Madison Peterson, who was nineteen when she married her husband, Joel. "No matter if we were financially ready; it didn't matter. Or school's in the way; it didn't matter. 'Cause we just knew that we were gonna be dating anyways so we might as well, let's just get married."
Madison was born and raised in the Dallas / Fort Worth area of Texas, where she definitely thinks people get married younger than in California, where Joel is from. This is true: the average age of marriage as of 2017 in Texas was 25.7 years old for women and 27.5 years old for men, compared to in California where the average age for women was 27.3 and for men, 29.5, according to Marriage.com.
But it's not just the difference in state culture, Madison thinks it's more about religion.
"The Bible talks about how finding a wife in your youth is a blessing," reveals Madison with a passion in her voice. "There's a lot of scriptures that even go into talking about the kind of blessed lifestyle you live as husband and wife in your youth. I think that backs up a lot of young people, you know, let's do it, let's get married! God says we should, mom and dad! [laughs]"
Catholic Marriage Prep Class is an online premarital course run by The Marriage Group, specifically for couples who are having a Catholic wedding. Scott Werner, a representative from The Marriage Group finds that because they're an online course, they are more accessible to younger couples.
"One contributing factor may be that churchgoing couples are generally more conservative in their views and lifestyle choices," Scott says over email about why getting married young has traditionally been linked to religion – Catholicism specifically. "They are more likely to abstain from premarital sex and less likely to move in with each other prior to marriage."
Joel and Madison did not attend any sort of premarital counseling, but part of her really wishes that they did. "Counsel would have been awesome just because there is wisdom in having a lot of people's opinions – you don't have to go by them, but there's just a new perspective with each opinion you recieve. So we should've had that, I think it would've given us more insight to what marriage was going to be, but we definitely had counseling after we got married [laughs] yeah we had lots of that."
Since Joel's parents were also married young (twenty-one and twenty-two years old) they were incredibly supportive to their relationship, which Madison conveys helped tremendously, especially in the first few years when things were a bit rocky. Having a support system is important when marrying at any age, but it seems as though when parents have good experiences with marrying young, they are more likely to be supportive.
As was the same with San Francisco State University student, Angelica Romero, who got engaged two years ago when she was nineteen.
"I was a little bit worried my parents wouldn't be as supportive," admits Angelica. "But they told me that they actually got married within three months of dating and they've been together for twenty-four years. . . hearing my mom tell me that and seeing them so happy, that was just like, it just changed my whole perspective on getting married young."
Angelica and her fiancé are both still in college and currently doing long-distance – he attends a community college in Riverside, California while she is up here in San Francisco. Because of this, and their desire to become more financially stable, they've decided to wait to plan their wedding until the time is right.
"I only have like hopefully one more year, I should graduate next summer," Angelica reveals of her plans ahead. "So we've been talking to our parents and were thinking hopefully we can start planning [the wedding] like later this year or the beginning of next year so we can get married when I move back down there."
By all means, not everyone is going to be supportive of Madison's and Angelica's decision to get hitched so young, but to them that's okay.
"You're gonna have doubters no matter what decision you make," Madison points out as she speaks of those who disapprove of her choice. "If you wait until you get married at like thirties and forties – or even late twenties – you're gonna have people who say oh my gosh you waited too long. There's gonna be somebody with a different opinion no matter what you do, so you have to ask yourself like am I ready? Am I ready to make a relationship work no matter what?"
There's gonna be somebody with a different opinion no matter what you do, so you have to ask yourself like am I ready? Am I ready to make a relationship work no matter what?
For her of course, the answer was yes.
Olivia Stadler, an Associate Marriage and Family Therapist with the San Francisco Marriage Center finds that in her experience, couples that married young sometimes feel as though they're missing out on things when they get older.
"I think one of the challenges of getting married young is so much growth happens from graduating college – assuming that they're on the traditional education path," Olivia explains.
". . .you are still finding out who you are and I think a lot of transformation can happen from twenty to thirty. So is your partner on a similar pace of growth, can they grow along with you? Or does one outgrow the other? Or do you end up feeling like you no longer have as much in common or want different things out of life?"
Olivia has helped couples who got married young and are now older – currently in their late twenties or early thirties. She admits that on the other hand, getting married so young is compelling because the couple is deciding to change their life together usually at a crossroads in their life like graduating college.
Madison describes her and Joel's relationship as an evolution itself. She understands how much change is coming their way, but they're ready for that everyday.
"I've had people say oh you're too young and you have so much to learn and why do you do this you're gonna grow and you're gonna change," she divulges on the criticism she's received from her decision. "Well yeah I am! I am young, I am gonna grow, and I am gonna change, but I'd love to change with my best friend because I know that he's gonna love me no matter how much I change and I'm gonna love him no matter how much he changes."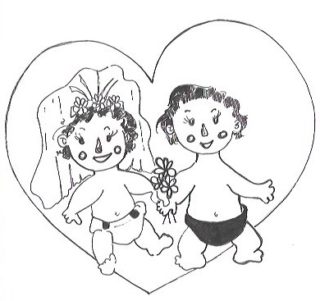 Because there are so many growing and moving parts of life throughout the twenties, Scott from The Marriage Group argues that marriage is apart of that equation because of how big of a step it is.
"At the point of college graduation, many young adults are ready to start their careers, move into their own homes, and embark on the next chapter of their lives," Scott writes over email. "For many, marriage can be the right and natural "next step" for their journey together."
However right that next step feels at the time, some couples who marry young can't take the changes growing older brings. The Institute for Family Studies reports in a study that, "someone who marries at twenty-five is over fifty percent less likely to get divorced than is someone who weds at age twenty."
Whether it's the fear of missing out or just growing apart, younger married couples are more likely to not work out. But for those who still strive for that feeling they had back when they tied the knot, therapy is there and communication is the number one issue, says Olivia.
"The first phase of the work is usually about skills training," Olivia illustrates on how she helps these couples. "So teaching them new communication tools, how to express their needs without making the other person defensive, that type of thing. And then on another level, building more self-awareness – so maybe someone doesn't really know what they want, or maybe they're working all the time and they're not really in tune with their body or their emotions."
And maybe this will work, as counseling did for Madison and Joel in their first few years of marriage. At twenty-three years old, she has been married for almost four years and is now pregnant with their first child. For them, this whole marriage thing seems to be working out just fine. And to those who still doubt their relationship?
"Proof's in the pudding," she declares. As it is for all those, young or old, ready or not, who dive-in headfirst to tie the knot.
All Artwork by Ana Murray