Inside the crowded room were women dressed in leather and rugs made of sheep fur. Brooms were scattered in between tarot readers and tables topped with crystals, incense, and herbs. There were rings made of stones and garments for sale, and a book on devil worship in France, for those into that.
This was the Magical Marketplace, a public feature that was part of the first ever Modern Witches Confluence in San Francisco, and there was something for just about every witch out there.
Casey Zabala wandered around the marketplace. The room was full of vendors dedicated to providing witches and the public with products ranging from ceramics to first edition books on demonology. She rang a bell as she walked, letting ticket holders of the sold-out workshops know that the opening ceremony was about to begin.
In a floor-length black velvet dress and fur fox mask around her neck, Zabala moved to the microphone to remind the witches of their community agreements—respect for other people's knowledge, boundaries, and cultivating curiosity throughout each workshop.
"I was seeing a lot of magical gatherings and attending a lot of magical gatherings in the Pacific Northwest, and I knew there was this amazing community here of makers, maker-witches, healers, and teachers that I wanted to bring together all in one place," Zabala, the organizer of the Modern Witches Confluence, said. "That was the real impetus, to bring people together and also provide a place for people to learn and connect with the authentic witch community and all of its diversity."
While those absorbed in more typical western religion may consider witchcraft and alternative spirituality belonging to the underworld and Halloween, it's a type of worship that has deep roots around the world. It also tends to be misunderstood.
Yes, witches and dark magic do exist. But the modern witch, such as the women who attended the confluence, have a mission of instilling wisdom and empowerment within their community.
So what is the authentic witch community? Zabala, who is a tarot reader at the Scarlet Sage and the creator of a feminist tarot deck The Wanderer's Tarot, wants people to know that the essence of a witch is not the stereotypical.
"A witch can look like anyone, first of all," she said. "Witches are people who move through the world with intentionality and are connected with the unseen forces and the natural rhythms of the universe. That can be interpreted in a lot of ways. Witchcraft is a very egalitarian spirituality and a very creative one."
Held in the San Francisco County Fair Building just before Halloween, the opening ceremony began in the auditorium, a once bleak and uninviting room that had been transformed to match those in attendance. Rows of chairs spiraled towards the center to face an altar that merges life and death, overwhelmed with wild flowers and an animal skull.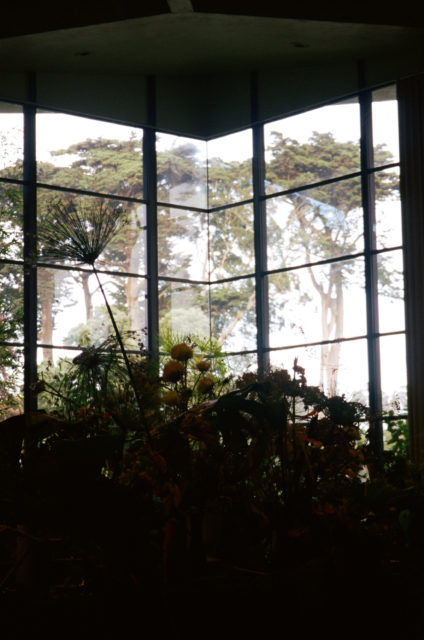 After a witch meet-and-greet, the crowd dispersed into the various workshops of their interest, all of which involve the theme of ancestral magic. The first workshops began at eleven in the morning and the last ended at six in the evening. Workshop topics ranged from blessing rituals for transcestors (meaning trans ancestors) to ancestral self-care tools in Mexican curanderismo, which is self-care through traditional native healing practices.
And so it begins.
Connecting with the
Ancestors
Dressed in head-to-toe black with bleached blonde hair, Michael Cardenas stood in front of his altar. This was his ancestral altar, which contained a white candle, a glass of water, and a blush pink bouquet of roses. He was there to teach spiritual seekers how to connect with their ancestors and show what is required to build an ancestral altar. He began his workshop by having witches spritz themselves with Florida water—a scent diffused with the oils of lemons, oranges and lavender, popular for its purification properties.
"There's a fearful element sometimes," Cardenas said. "There's no possession, spirits cannot touch your crown. They are not here to harm us. Working with your ancestors is working with yourself."
He glanced around the room, while holding onto a raven's claw grasping a black obsidian sphere. Cardenas wears it as a necklace, for psychic protection in order to not absorb other people's energy.
"Everyone connects to their ancestors whether they're conscious of it or not," Cardenas said. "As somebody who works with the death, they come no matter what. Learning how to use that energy in a positive way or learning where to direct that energy is, that's where this work is beneficial. So that you have balance in your life."
Known as the owner and head brujo of Olde Ways, Cardenas offers spiritual services at his apothecary in San Diego, California. He is educated in several different forms of witchcraft, spiritual healing, and folk magic. According to Cardenas, an ancestral altar is what gives deceased ancestors a place to exist.
When building one, he recommended a glass of tap water, because it is considered alive and able it filter out negativity. Those seeking to channel their ancestors should pray over the water in the traditional way their ancestors practiced. Another necessary element is flowers, used to raise the spiritual vibration. A solid white candle is also on the list. In Cardenas's case, tequila is often on his altar. He's gotten to know his ancestors quite well.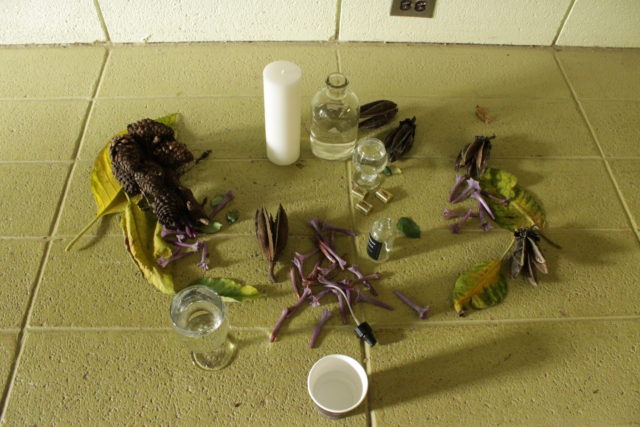 Equally important, he urged listeners to really think about the location of their ancestral altars.
"Don't put it in your bedroom," Cardenas said as he holds back a laugh. "They will mess up your love life. If they don't like the person you're dating, because they could foresee that some shit is gonna go down, it won't be good. Put it in the kitchen, or on top of the fridge is a really common space. It's a community area; no one's really naked in the kitchen. Maybe."
Italian Magic
Spirit medium and author of Italy's Witches and Medicine Women Volume 1, Karyn Crisis used her workshop to teach those curious in the history of Italy's lineage healers and their practices of magic, a world outside of the Catholicism and Paganism Italy is known for.
The majority of the witches in this workshop came from an Italian background and were excited to learn about the largely unknown side of magic from their ancestors.
Crisis has hot pink dreads nearly as long as she is. She stood besides her altar, a table crowded with plants from Naples and Emilia Romagna, Italy. Bowls were filled of rosemary and sage, along with a mini broom she made herself, used to filter out negative spirits.
"Is it okay to burn incense in here? I didn't ask anyone," said Crisis, with a match in hand.
"Do it," the women around her said without hesitation.
As the air filled with the smell of incense and coal, Crisis dove into hidden indigenous Italian lineage cures. She spoke rapidly, as if she held too much information on the subject inside of her and there was not enough time to get it out.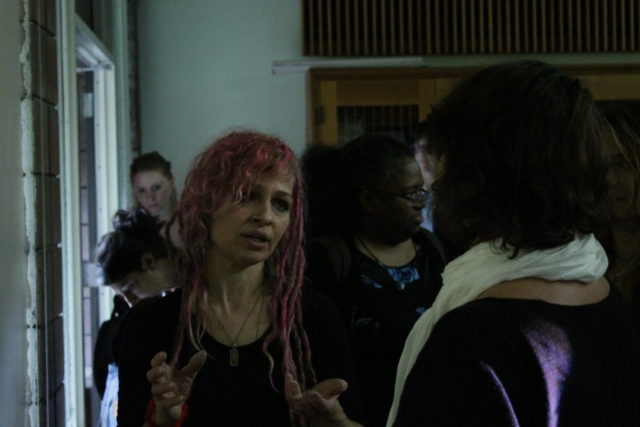 Crisis acknowledged the impact organized religion had and still has on Italy, but informed those in her workshop that although a lot is unknown about the Italian lineage healers secluded in the mountains of Italy, they have had a lasting effect on the magic world.
"This idea of passing knowledge from people to people, it's really only been accomplished in a huge way by the church," Crisis said. "However, what is important for Italy's history is the spirit world: guides, ancestors and helpers had no limitations of physicality, which is why the further we go back into Italy's history of magic and cures we see things that resemble things all over the world."
Crisis is curious by nature. She wants to learn as much as she can about pre-pagan feminine shamanism of Italy.
"I didn't set out to write a book. That was never in my life goal. But I was spirit guided at the time I was a medium, and I was guided into this hidden world of Italian healers, shaman, more recently this domestic magical world, that I didn't even know existed. It seemed like people were waiting for me to tell their stories," she said.
Crisis believes plants have a protective natural value, and through studying the living women who are a part of lineage practices in Italy, she demonstrated that these practices allow her to communicate with the spirit world. These women informed her on mysterious cures, to listen to nature, and how to channel feminine divinities.
People left this workshop with a plant they felt they needed and the history of a practice kept hidden.
Ancestral Self-Care Tools in Mexican Curanderismo
The women sat in a spiral pattern and were asked to stare at the candle in the middle of the room. From then on, the remainder of the workshop involved a lecture on the importance of self-care through plants, a lot of crying, and deep sighs of relief.
Napaquetzalli, a trained community herbalist and curanderx, focused her workshop on the traditions of Mexican folk healing through plants. She credits her wisdom to her grandfather, who was the neighborhood curandero in her hometown of Los Angeles.
"Why do we need plants and why do we need this medicine in self care?" Napaquetzalli asked the women circled around her. "We have to reframe how we think about cleansing. What does that mean? It's not that were are inherently dirty. We are divine beings, inherently perfect in every moment of how we are. But, we need these ancestral tools to cleanse and lift off and break off all that is not of us. We are very strong in who we are."
She paused and took a deep breath. "But this crazy, toxic world we live in. All the trauma, all of the racism, all of the systemic violence, the patriarchy, the injustices around us, everything. All that is not of our divine nature and is not of us. That needs to be cleansed off."
The cleansing ritual began with each woman walking up to the altar to pick a plant of their interest. Mexican mint marigold, roses, lavender, rosemary and jasmine were their options. Once they had their plant in hand, Napaquetzalli rose from the fur rug underneath her and beat on a drum.
The energy in the room shifted.
With Napaquetzalli setting the scene, the woman began rubbing the plants on their bodies in an automatic motion, touching areas where they've experienced pain.
Some cried uncontrollably while others wailed out deep sighs. After thirty minutes of this—silence. Bliss.
"I finally learned the name of my ancestor I saw in an earlier workshop today," said a person in the circle.
Others shared that they also encountered a family member or learned something new about themselves. Many released some form of trauma they've been holding onto for years.These were represented by the broken rosemary and Mexican marigold scattered across the floor.
"That's why we make such a big deal about our ancestor altars in Mexican and Latino culture," Napaquetzalli said. "So that we are constantly feeding our spirits so that we receive those blessings and those feelings back to them."
Starhawk
The Modern Witches Confluence ended on the note of Magical Thinking, a presentation by Starhawk, who was born under the name of Miriam Simos. She is an activist, author, and unifying figure in modern Goddess religion and earth-based spirituality.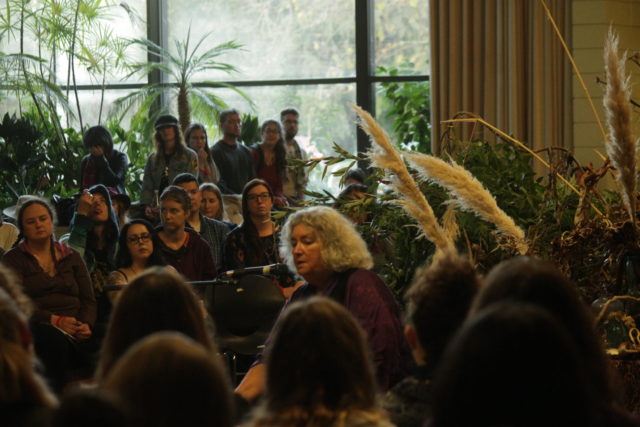 While in college at UCLA in the sixties, she began researching witchcraft for an anthropology course. Witches who crossed her path informed her that witchcraft was an ancient tradition long before Christianity and before Judaism, which was the tradition she was raised in. They informed her that it was the religion of the Goddess.
"For me, at that point in my life, at the time I was seventeen, it was a revelation. The very idea that you can see deity as anything other than male was shocking, astounding, amazingly liberating," Starhawk said.
From there she started a coven, and is now the author or co-author of thirteen books. She spends her time lecturing modern witches on topics varying from permaculture to activism. When someone asked her, "What spell should we cast on Trump?" she responded with, "The only spell to cast on Trump is to actually go out and vote."
Her concept of magical thinking requires spiritual seekers to challenge birary and polarity thinking and understand that they are in a relationship with the world.
So, forget about the witch in front of a cauldron. A witch can be traditional and also contemporary. They are a community of people striving to help others find their place along the way. Some see the future while others search through the past. They are people who view spirituality with an open mind.
Perhaps it makes sense why men throughout history spent so much effort trying to get rid of witches. They have the power to bring women together and realize their full potential.