Prepared for the Worst, Hoping for the Best
It's not a pleasant sound, but a familiar one to San Francisco locals.
BWAAAAHHHHHHHHH. At exactly noon, every Tuesday, across the city from one hundred and nine sirens, a fifteen second wail can be heard.
"This is a test" the voice of now-retired KFOG radio host, Dave Morey, says. "This is a test of the outdoor public warning system. This is only a test."
The siren, despite its purpose, is a comfort for many—it's just another part of living in San Francisco. It serves as a reminder that the weekend is still seventy-seven long hours away, and perhaps an opportunity to recalibrate your watch.
But every week when the alarm goes off, what the city of San Francisco wants you to think of is an emergency plan and to build an emergency supply kit, enough to be self-sufficient for seventy-two hours. Because if that alarm goes off at another time, you might be on your own—in a city without power, water, or one laid to waste by natural disaster.
Fully intending not to be caught with their metaphorical pants around their ankles, many Americans have taken to making extensive preparations for such an occurrence. This group of people has become known as preppers. Some prepare for what mother nature may throw at them, some for social collapse, and others simply want to keep their families safe. But what they all share is a common desire to come out on top of whatever disaster strikes.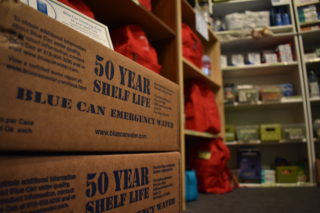 A 2012 survey conducted by Kelton Research in conjunction with National Geographic found that forty-nine percent of Americans believe they could evacuate their home in fifteen minutes to an hour if required. Only eight percent think they could leave their home with everything required to survive in under a minute.
It was the evening of October the eighth, 2017, when the Tubbs fire came over the mountains and into the Soda Canyon in Napa county, California. Resident Jeff Foley has lived in the area for over twenty years with his wife and children.
"My wife went to shut the windows, and when she got to the front she saw a wall of flames," explained Foley as he recounted the evening. "I went to help my wife with a couple boxes of photos and said we gotta go, the backyard is on fire."
Foley, his wife, and his in-laws all managed to evacuate safely, but it was done without any sort of official assistance. In their understandable rush, they were not able to evacuate with much.
"My wife was wearing pajamas for several days because we didn't have any clothes" said Foley. "We just had what we were wearing."
The Foley's home was destroyed in the fire and they lived in a hotel for just shy of two months. With nothing left, Jeff Foley quit working in order to focus on rebuilding his home.
After the devastation had passed, the Rebuild Northbay foundation was created in order to raise money to help victims like Foley rebuild their lives. But the organization has gone a step further and has begun actively looking forward in an attempt to help their community prepare for the next disaster.
They distributed five thousand Go! Bags across the Sonoma and Napa counties with emergency supplies such as phone chargers, respirator masks, and hand crank flashlights to residents in an effort to be more prepared.
Go! Bags are common within the prepper community. Essentially a condensed survival kit meant to be carried with you in the event you have to evacuate. Food, water, spare clothes, and various tools are found inside.
But these kits only constitute a small portion of many preparedness strategies. For Bay Area preppers like Jon Stokes, having supplies on hand for extended emergencies is a priority.
"I was prepared to extract my family and administer first aid," explained Stokes. "And then we had food and water for a week."
Stokes, who writes for a website called The Prepared as an expert source on prepping and a gear reviewer, has since moved out of San Francisco. But when he was in the city, he was concerned about a different kind of natural disaster than fires.
"Earthquakes were the biggest concern" explained Stokes. "I had slippers under the bed in case there was glass on the ground and some kind of demolition tool in every part of the house."
Worried about reaching his children in an emergency, Stokes scattered tools around the house and recommends you do the same. Stokes kept, among other things, two fifty gallon drums of water, flashlights and batteries, hygiene supplies, and boxes of MREs. MREs—or meal ready to eat—are self-contained rations used by the military while in the field. They do not require any cooking besides using the self-contained heater and have long shelf lives, making them ideal survival food.
"It doesn't take much to trap you in a room," said Stokes. "If the door is shut and the frame shifts a half inch in an earthquake, you're stuck. And if you want out you have to go through that door."
And it's a reasonable concern: the Bay Area has an unfriendly history with earthquakes. As recently as 1989, the Loma Prieta earthquake caused the deaths of sixty-seven people and more than five billion dollars in damage.
Earthquakes in San Francisco are a notable concern for two reasons—one being the soil makeup of the ground the city sits on.
According to a recent survey conducted by the US Geological Survey, approximately half of San Francisco is at moderate to very high risk of liquefaction in the event of an earthquake. Liquefaction occurs in areas where the ground is primarily water saturated mud and artificial filling. The shaking of an earthquake mixes the water and fill together, essentially making quicksand. When this occurs, buildings become prone to structural damage, even running the risk of collapsing entirely. Neighborhoods of San Francisco such as SoMa, the Marina, Bayfront, and the Financial District are built on such ground.
The second reason is the numerous fault lines running through the Bay Area. The San Andreas fault, which runs the length of California, passes by San Francisco just offshore. But the Hayward Fault in the East Bay hasn't had a significant shake since 1868, making it due for one. And the US Geological Survey predicted a roughly seventy percent chance of a magnitude 6.7 or greater earthquake within the next three decades.
For reference, the Loma Prieta earthquake, with all the destruction it caused, was measured at a 6.9 on the Richter scale.
It might seem absurd to think that in this day and age emergency help may not be able to reach you in time. But it has been seen many times; in the Napa and Sonoma County fires, and notably in Louisiana when Hurricane Katrina hit, where it took days for emergency services to reach some stranded.
Stokes grew up in Louisiana, which he described as hurricane country. After Katrina hit, he went back with his wife to volunteer at Red Cross shelters. Twice in his childhood his family had to evacuate for hurricanes, and he credits growing up in hurricane country for some of his involvement in prepping.
"Everyone I knew made preparations for hurricanes, but we didn't call it prepping then" explained Stokes. "My grandpa had a nuclear bomb shelter in the backyard. The tie of the Cold War, hurricane country, and being a Boy Scout turned me to prepping eventually. It was kinda in my blood."
He's now much more involved in prepping because it's part of his job. But he notes that having his first child was a milestone for preparedness. And when living in San Francisco, he ensured that nothing was close enough to fall into his child's crib in the event of an earthquake. As his family grew, his desire for peace of mind for his family grew as well.
"There are a lot of aspects to [prepping]" Stokes explained. "When you have young kids, like mine who are three to ten years old, peace of mind is big. Your biggest nightmare is your kids looking at you asking to eat and not being able to hand them food."
Despite preparing for the worst, Stokes still hopes for the best if an emergency were to occur.
"I worked in finance, and I'm an entrepreneur" said Stokes. "So I'm used to betting on things. And when it comes to prepping, most of my chips are on things will improve in a disaster. So only a fraction of my time, energy, and net worth is tied up in it."
And there is a track record of communities coming together in the wake of tragedy. Including in Soda Canyon where the Foley's lost their home.
"The local contractors have been great, you know?" Foley continued. "They have to charge me for their work, but they come out and do extra stuff for nothing on their own time. There's friends and family helping each other, neighbors helping each other."
To many, that is a core concept of being prepared. So that in an emergency they can't only help themselves, but extend help to others. Prepare for the worst, but hope for the best.
BWAAAAHHHHHHHHH! It's a Friday afternoon, and from those one hundred and nine sirens across San Francisco a real alarm has rung. How prepared are you?