Street artists unite the city during the pandemic
Art. It is all around us and there are many different ways of expressing it — whether it be visual or performance art. It is important to utilize creative muscles to create an escape as a form of therapy, especially during difficult times such as those we have faced this year. Something that emerged from a scary, apocalyptic locked-down city riddled with barricaded storefronts is an endless series of new murals all over San Francisco. Xpress Magazine sat down with five street artists to hear their stories, and shine a light on those who keep lifting us up and inspiring us with their creations. 
Jeremy Novy
Insta: @jeremynovy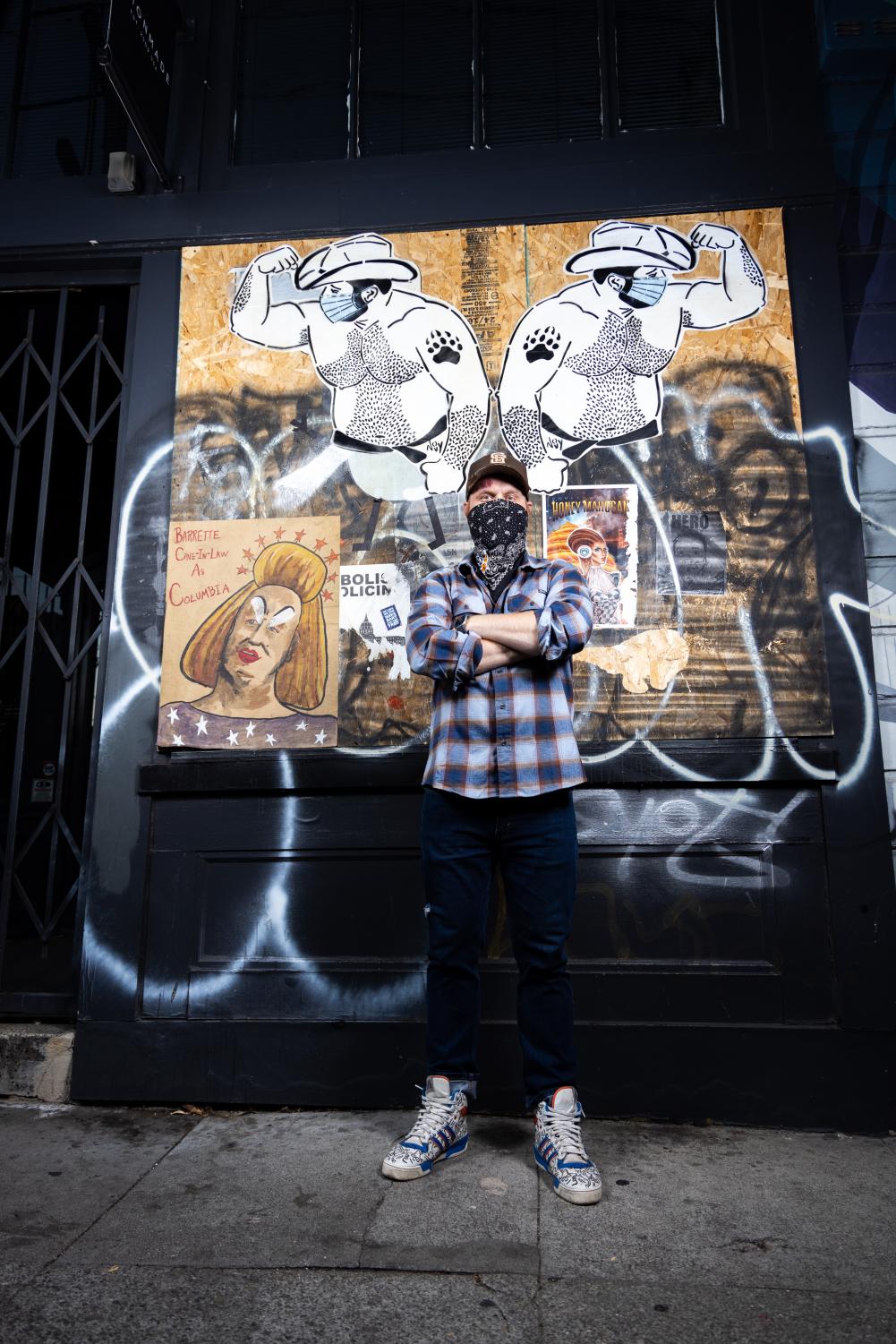 Jeremy Novy is a stencil street artist who has dedicated his life to art. Novy is originally from Milwaukee, Wisconsin, and moved to California to pursue street art after getting his second art degree. Novy was drawn to San Francisco in 2008 to join the street art movement after flipping through coffee books inspired him. Novy says that art fixes what the city is ignoring. He started his career by documenting urban decay in Milwaukee in 2004. He focused on the things and people that were leaving Milwaukee. He put up stencils on the doors and windows of boarded up houses to highlight the problems in a cartoony way. Novy chose stencil as his medium because it is much cheaper than printing. Novy is most famous for koi fish, which can be found all over San Francisco and beyond. The koi refer to Chinese numerology, in which lucky numbers were hidden in artworks during the cultural revolution to communism in China. The number seven, for example, brings luck with relationships and community. 
Novy wants murals in San Francisco to speak to all demographics, so he puts up stencils of different segments of the queer community. He includes depictions of drag queens, leather people and bears to create a visual safe space for those communities.
"
Murals are about empowering different demographics. We have murals for migrant farmers, women, the handicapped, different races, different cultures, cities, counties and states. We have all these murals that are about empowering these people. We don't have queer murals, we don't have transgender murals, so I do queer street art, because no one can tell me I can't do this art. "
— Jeremy Novy
To Novy, art is a form of self-care, which has become even more crucial in the COVID-19 era. When other forms of self-care are not an option, such as going to a bar and having a drink with a group of people, or going to a museum, it's important to replace them. Amid the pandemic he created art such as a bear, with a bewildered, sad expression, that holds a sign that says "free hugs," juxtaposed with a big, "canceled" stamp across his belly.
Novy also added a life-sized stenciled Icarus on the plywood covering the windows of Walgreens Pharmacy in the Castro District, which inspired our next highlighted artist, Diego Gomez, to add to it.
Diego Gomez
Insta: @designnurd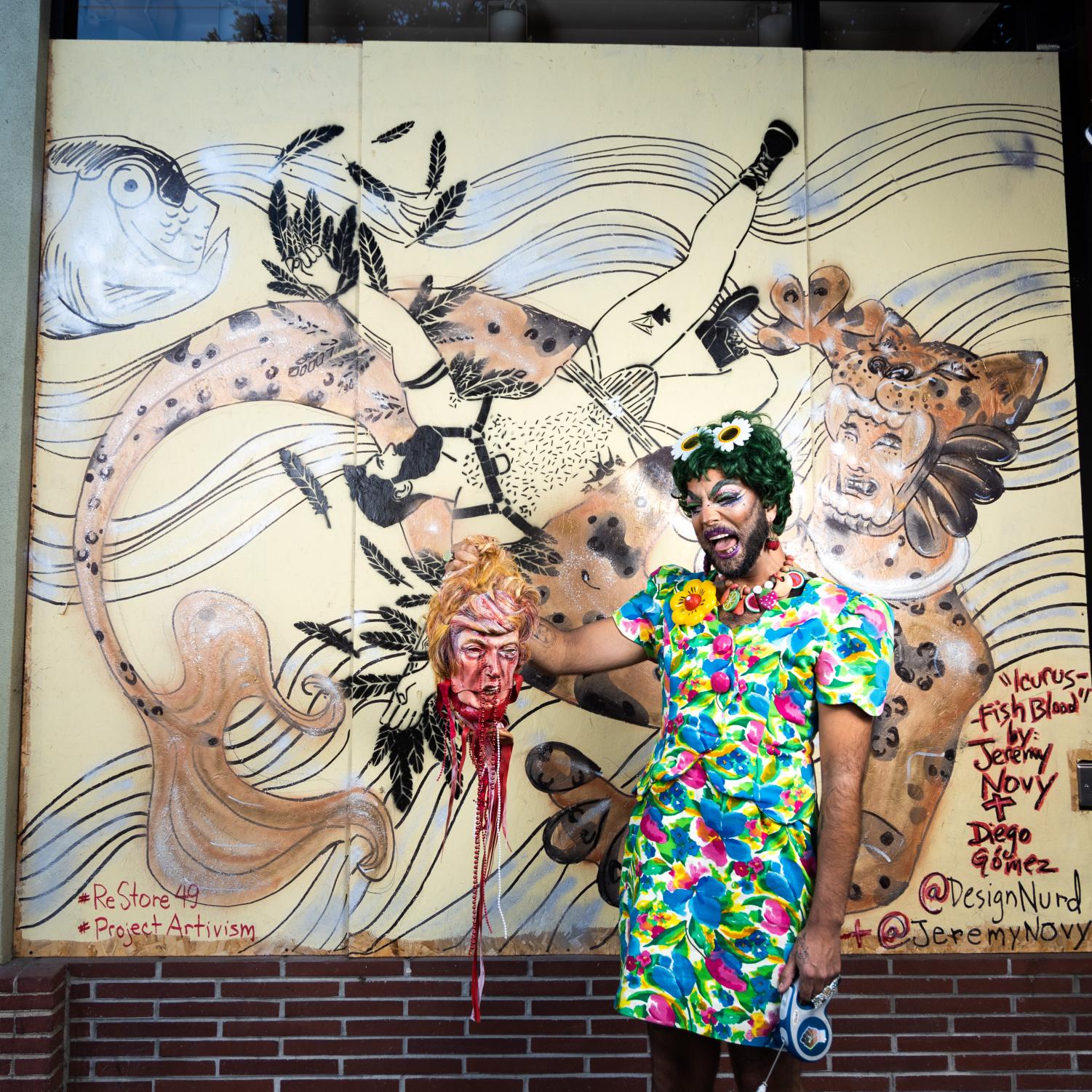 Diego Gomez is a professor at City College, who teaches fashion courses in illustration, history,  careers, digital fashion, and portfolios. Gomez has many talents, and has written and illustrated multiple comic books about the 1963 Civil Rights movement. They are the creator of "Hell Babes," a story about drag queens in hell. They are also the publisher of DADDY ISSUES magazine, and designer of a flag that combines the Black Lives Matter movement with the gay pride flag colors. They grew up in Daly City and has been living in the Tenderloin District for the last 15 years. 
Art and fashion are in their blood. Their mother was very fashionable, and their father was a painter. When they were a child, Gomez was bullied, so they used art as a way to escape, while at the same time getting the attention from other children. Gomez takes inspiration from Madonna, and fictional characters such as the X-Men and other comics and TV shows.
 Gomez has painted many murals, but many have been painted over since — a fate many street artists are facing. One mural that is still up is the addition to Jeremy Novy's Icarus. Gomez was inspired to add an element from their Mexican culture to the Greek mythology of Novy's work. So, they drew a jaguar mermaid god, surrounding Icarus with a black Sharpie. 
Gomez uses their art to brighten up spaces considered unattractive, so people feel happier and more connected to their neighborhood. 
"
If things could be covered in flowers, trees, moss and vines, I would be fine with that. I don't think we necessarily need more murals, but every building is not about to be covered in vines," Gomez said. "It just looks dirty and gross sometimes, so why not add some more color? What I don't want to see anymore are more beige buildings, because that's really boring."
— Diego Gomez
Gomez's final thought to share with Xpress Magazine was a political one. 
"Let's vote for whoever will allow the most colorful, joyful art possible," Gomez said.
Nicole Hayden
Insta: @nicolehaydenart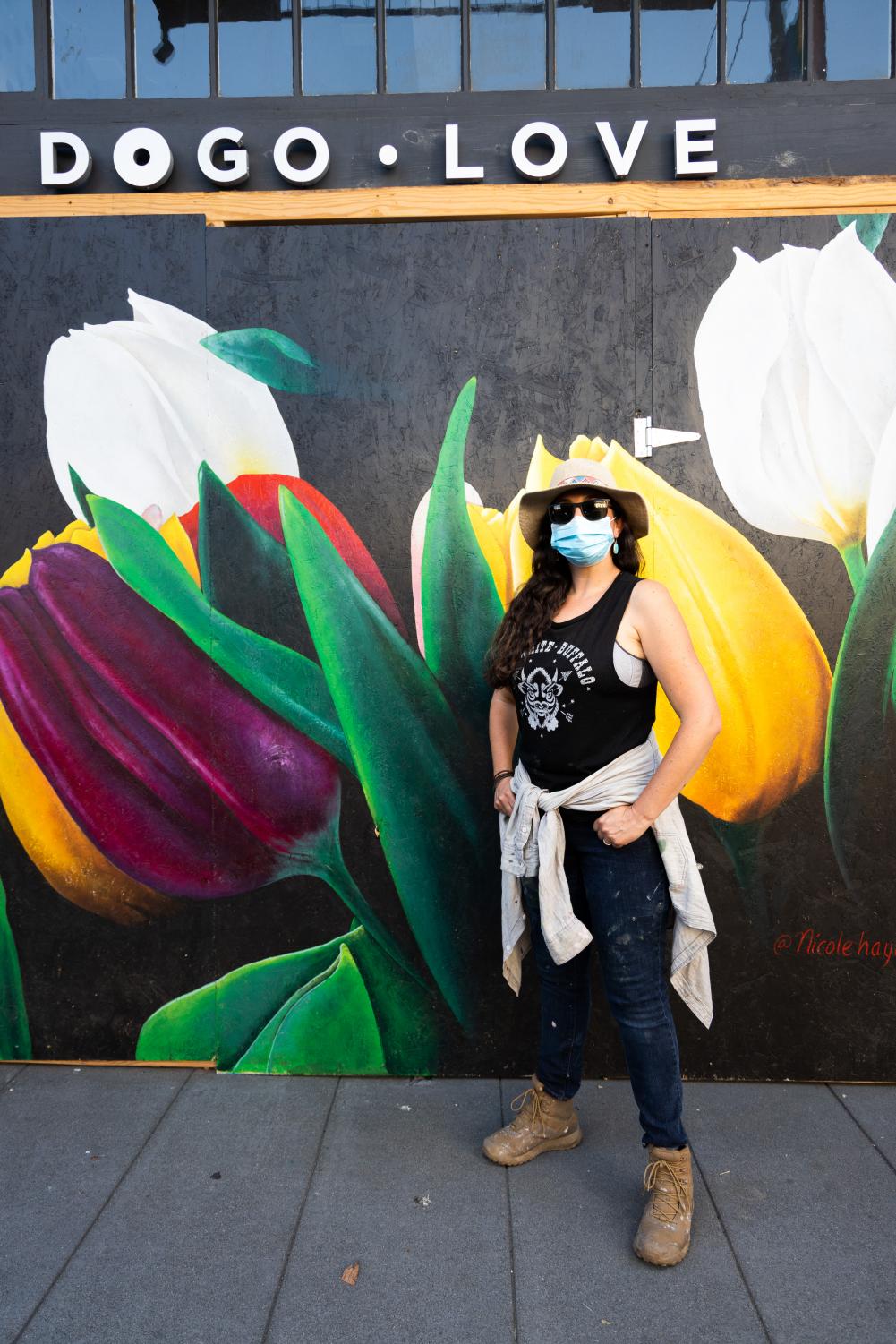 Nicole Hayden didn't know that street art was for her until she walked around her Hayes Valley neighborhood during the lockdown, and saw all the plain plywood as potential canvasses. All the boarded up storefronts made her feel as if she had to do something creative that was uplifting and beautiful.  She created COVID-19 bears wearing masks as well as murals with beautiful flowers.  She also painted a 1940's pinup girl on a swing with a mask and gloves on at Yoga Tree in Hayes Valley, as well as a male pinup riding a whale at the Moby Dick bar in the Castro.
"I just really really wanted to get out there and beautify my city," Hayden said.
Hayden was born in Chicago, Illinois and has been painting and drawing since she was six years old. She came to San Francisco in 2001 to get a master's degree from the California College of Arts and Crafts. After graduating she worked as a decorative painter and photo finisher, and learned to create works in various styles, such as interior murals, wood graining and marbleized plaster. This experience formed her mural making skills seen today. 
When shelter-in-place began, Hayden used her art as a coping mechanism. She received a lot of positive feedback from the community, which thanked her for beautifying the city. 
"It's the least I could do — to bring art to the streets during this time," Hayden said.
Hayden is inspired by everything. She loves getting out into nature, taking hikes and going on adventures with her husband and dog. She also loves seeing other murals in the city. Hayden's work and portfolio has expanded since the pandemic hit the world and she hopes that she can continue to do outdoor murals.
"There's something pretty magical about working outdoors," Hayden said.
Jordan Herren
Insta: @jherren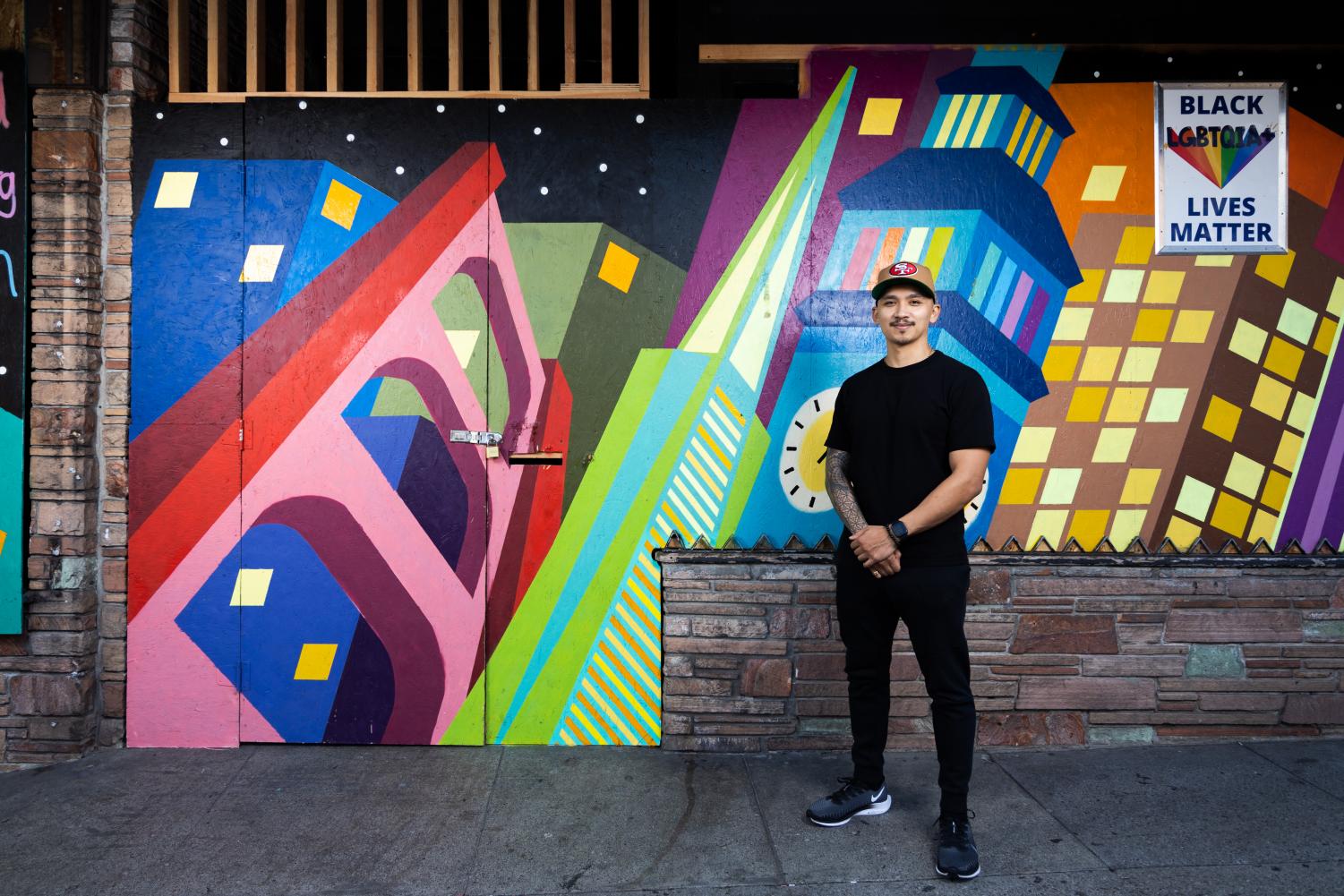 Jordan Herren was born and raised in San Francisco. He studied marketing at SF State University. Eight years ago, while a student, he took to a canvas that was sitting in his room and created a painting, which he posted on social media. This kickstarted his career as an artist, as more and more people commissioned his work. After graduating, Herren worked in the marketing industry but is now a full-time artist. Herren describes himself as a contemporary artist, using acrylic and spray paints. He is inspired by graffiti artist, Cost, and fellow San Francisco street artist, Apex. 
"I try to make something that I personally would like to put up in my home," Herren said.
Herren is most famous for painting the San Francisco skyline, which he also put up on the covered windows of two bars in the Castro District. His work located at Badland's was the first mural he ever painted. Herren applied to the Paint the Void program, an organization that gives grants to artists for "safeguarding hope and beauty in the wake of COVID-19." One month later he was chosen to create the mural at Badlands located on 18th Street. Since then he has done six more murals, and strives to always improve his craft. Seeing his own art on the streets of San Francisco means a lot to Herren — he always wanted to be a full-time artist and is now finally making it via the transition to street art. 
"
I believe that we're the curators of how the public feels, and I think it is a responsibility for an artist to interpret that and put it out there — as long as it's positive, of course."
— Jordan Herren
Derrick Bell
Instagram: @derrickbellart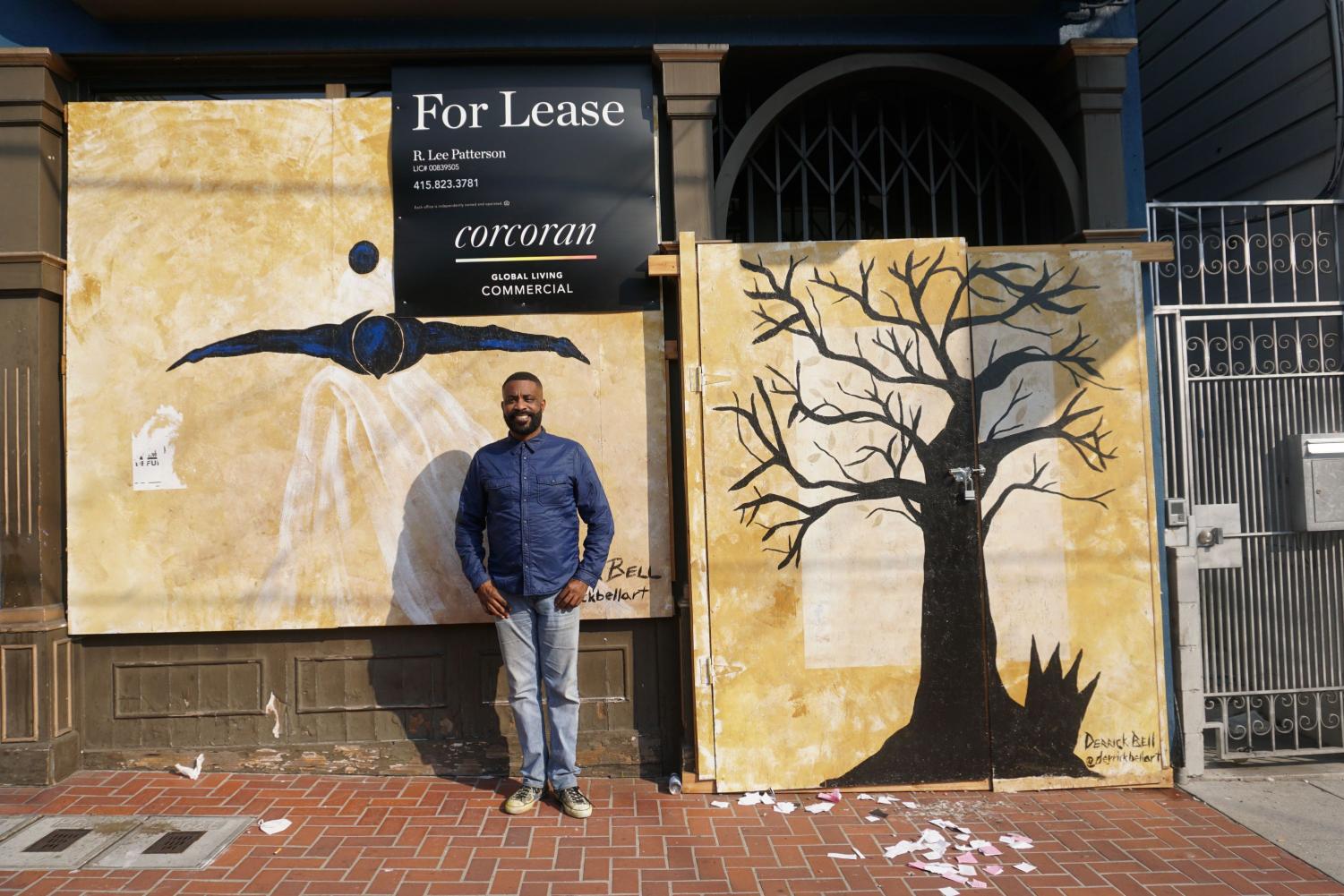 Forty four-year-old Derrick Bell is originally from Cincinnati, Ohio and has been in the Bay Area for about five years. He lives in Oakland where he teaches art to middle school students. 
Derrick is not typically a street artist, but he said yes when a friend reached out to him asking if he wanted to paint a mural on plywood covering windows in San Francisco's Castro District. Bell got in touch with the business owner of Cheaters Too, who chose artwork from Bell's website, which he then painted on the plywood. The mural depicts a woman bowing with a baby on her back. Bell's work can be seen at 4126 18th Street.  
"
I look at the world as my inspiration. Really, I do. Anything that moves, anything that's breathing inspires me. I'm fascinated with nature. Hearing other people's stories inspires me. Especially underdog stories."
— Derrick Bell
Bell thinks that art serves as an escape or a gateway to a fantasy world, especially during a pandemic. He also sees it as a type of therapeutic exercise for people, such as his students, to use. He explained that he believes art heals people and releases frustration. Art is not only fun to look at, but it also speaks to happenings in our city and our country. Black Lives Matter, equality, immigration, women's rights and other social issues are the type of themes on display in the artists' work. Bell hopes that at the end of the COVID-19 era, when it is time for the plywood to come down, that there will be a show or exhibition at a museum that showcases all the different artwork created during the crises our country is facing.
Leave a Comment