Depop: Handing the fashion reins over to Gen Z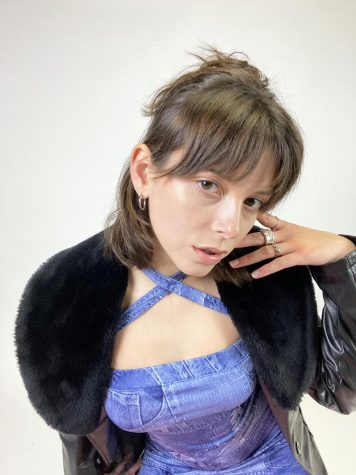 Side-by-side, these three young girls could be mistaken for the main characters of an early 2000s movie. Their graphic T-shirts, low-rise jeans and glossy lips create an undeniable sense of deja-vu. They're walking advertisements for their own line of business.
Three 21-year-old women from San Diego have turned their affinity for nostalgic fashion into a collective of shops on Depop, a shopping app that's at the forefront of the latest trends. They call their collective "sister shops" and show their support for one another by modeling clothes, shooting photos and promoting each other's individual shops.
Located in Oceanside, CA, Donna Villarino, Maddie Lee and Clint Kardas met while working together at Urban Outfitters. The girls grew close as coworkers and quickly bonded over their love of Y2K aesthetics (think early Britney Spears, Paris Hilton). Their shared interest in fashion manifested in the form of frequent outings to thrift shops and ultimately, by June of 2020, the three girls moved in together and dedicated themselves to the world of Depop.
Villarino appears casual, cool, collected in her colorful, graphic tee — vintage from 1998. Her light brown hair is tied back loosely, except for two strands that perfectly frame her face. Villarino was the first of the three to enter the Depop world in 2018, as @vintagebrody. 
"I always really loved thrifting ever since I could drive myself to the thrift store," Villarino recalls. "I would always find all this cool stuff but it wasn't my size or it wasn't really my style and it always felt like such a bummer." 
Villarino's shop consists of perfectly curated Y2K styles with a special focus on low-rise jeans from the era. She looks to '90s icons like Britney Spears and Jennifer Love Hewitt for "weird, funky styles" and "simple, sporty-girl vibes," respectively. She also takes notes from social media's "It Girl," Devon Lee Carlson.
Her shop name, Vintage Brody (@vintagebrody), is a reference to the nickname her uncle gave her as a child. "I like the name Brody because it reminds me of my younger self and what my family has always seen in me since I was a kid," she explains.
Villarino currently boasts 14 thousand followers on the shopping app but describes her success as gradual. "I remember hitting 1K and being like, so excited," she says with a laugh. 
The past three years she's gone from sporadically posting items from her own closet to intentionally buying items from thrift stores to resell on Depop. As of a year ago, she is the only one of the three girls who has been able to quit her job at Urban Outfitters and support herself solely through her Depop income.
The other girls eventually joined Depop and began their own shops with Villarino's guidance.
Lee, known on Depop as 733 Vintage (@733vintage), was next to join the business. She contrasts Villarino's colorful look with neutral shades of brown and black, complemented by her dark, shoulder-length hair. Her look is polished off by gold hoop earrings, glossy lips and the word "foxy" in silver glitter on her graphic tee — a true testament to her style.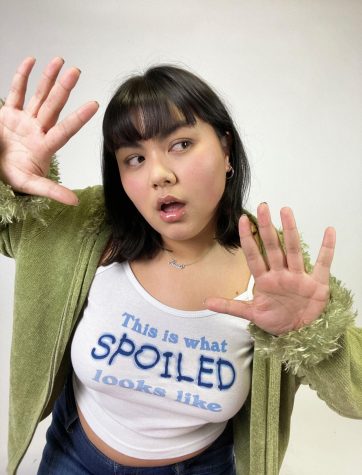 Lee expresses that 733 Vintage is named after her angel number. "The angel number 733 means you are supported and loved by the angels, and that prosperity and abundance is coming for you," she explains. 
Lee started her shop at the beginning of 2020 after her thrifting addiction became "out of control." Her inventory has evolved from closet overflow to unique thrifting finds. She wants to ensure that all people of all sizes can have access to the latest trends. "I'm a size large-XL," she explains. "I feel like there's not a lot of that represented on Depop as much."
Since the beginning of 2020, Lee has refined her shop's style. "Obviously, with us being 21, we're very inspired by that nostalgic kind of era of the late '90s, early 2000s." 
Her shop consists of midi-length and maxi-length skirts, Y2K tops and all things "funky and weird." She's inspired by early 2000s movies and TV shows, young Gwen Stefani, influencer Devon Lee Carlson and singer Gabbriette of the band "Nasty Cherry."
Lee currently has 4,300 thousand followers on Depop and can afford to cut back her hours at Urban Outfitters. "If I'm struggling with cash or anything, it's just always there," she says. "Depop is my main priority."
The newest member of the "sister shops" is Kardas, who joined Depop in September as Happy Berry Thrift (@happyberrythrift). Kardas is illuminated by the soft pastel palette of her wardrobe, accessorized to perfection with symmetrical hair clips, silver rings, and a pale yellow scrunchie. Kardas' face, framed by her white-blonde hair, lights up at the very mention of fashion. 
"I only have one brain and it's just fashion, clothes and shopping. Like, that's all I talk about," she says with a laugh. "And boys."
Kardas has been collecting clothes for as long as she can remember. Her closet includes clothes from every decade, every era. She eventually felt the desire to share her collection with others and knew Depop was the most suitable platform for her cause. 
"I am a trans woman here in 2021, and a 21-year-old, living on their own," Kardas says. "I feel like everyone deserves the right to wear cute clothes. No matter their race, gender or size."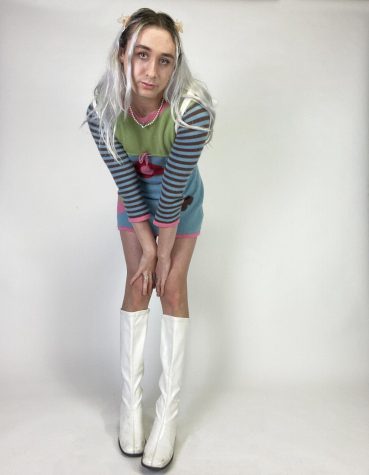 Kardas was introduced to the app through Villarino, whom she met during the interview process at Urban Outfitters four years ago. Kardas commends the girls' collective for its variety, stating, "all three of us have totally different styles and we want to share with the world."
Kardas describes her current style in self-defined terms and is "crazy" about bright colors and patterns, Japanese streetwear, and the balance between "cutesy" and grunge. Kardas is drawn to Tokyo street style and finds inspiration from the '90s Japanese fashion magazine, "FRUiTS."  
"I feel like I don't have a limit anymore," Kardas says. "I'm definitely stepping out of the box."
Since middle school, Kardas has been inspired by the Japanese anime and manga artist and writer Ai Yazawa. "The main character that she created resonates with me a lot," Kardas explains. "I just love this kind of wild, not caring attitude." Kardas' shop name, "Happy Berry Thrift," is a nod to Yazawa's fictional brand, Happy Berry, from a 1995 manga.
She currently has about 600 followers and has found a niche community with which to share her unique thrifting finds.
"I do like to swap my closet a lot. So it's like, once I'm kind of done with something I want someone else to love it and wear it." Kardas describes the feeling of seeing someone wear an item she sold as "seeing your child perform for the first time and do really well…I just get this joy when people are wearing my clothes."
A typical work day for the girls, according to Kardas, can be summed up as "thrift, log, wash, shoot." 
They begin their day by visiting various thrift shops all over the county, which usually takes up the entire day. After they get home they log their expenses and price the items, usually about 30% up from the original price. The more vintage an item is, the higher it's priced. Pricing also depends on the rarity of the item and how much the seller personally likes it. 
"You don't want to give it up," Kardas explains. "You want it for yourself, but you also want someone else to wear it because you think they'd wear it more. It's this whole cycle."
The clothes are then washed and modeled by the girls, who help each other shoot photos in a make-shift studio setup in their garage. Their quirky poses, styling, and accessories, result in photos that are reminiscent of a '90s Delia's catalog.
In regards to the question of ethics and the sustainability of thrifting, the girls feel justified in their choice of hobby. 
"It's definitely better to thrift rather than buy fast fashion," Kardas says, but adds that there's no clear right or wrong on the topic. Working at Urban Outfitters has opened her eyes to the "skeleton" of fast fashion and increased her fondness for Depop.
While many businesses suffered from the pandemic, the girls' shops grew even faster. Stuck inside, people increased their online shopping habits. Villarino explains that they found themselves in a strange position with the higher demand. With everything closed, "we couldn't thrift during the pandemic, so I really just started posting stuff I already had and then as soon as thrifts opened I racked up as much as I could."  
The past year has brought a dramatic shift in the styles they search for in thrift stores. The widely-known social media app, TikTok, has created a turnover of trends that few can keep up with. Items the girls previously sold at lower costs are now in high demand, as styles come and go on the whim of the app's top influencers.
"A lot of the trends aren't from designers just deciding what the trends are. It's young people getting inspiration from like, '90s stuff," Villarino explains. She attributes the rapid spread of trends to the increased speed of communication provided by social media.
Lee agrees, adding that teenagers on the app "see things, then just make it the new normal, whereas when we were younger it was just very weird to be 'indie' or dress different."
Kardas views TikTok as an empowering platform that has improved people's confidence and sense of community. She believes the app has created a "unique sense" of not caring what others think. "Everyone around the world can come together and be with the people that they want to be around and see what they want to see," she says. "It's just this amazing platform that empowers a lot of people."
Looking to the future, the girls are dreaming big. 
Villarino is currently signed to a modeling agency and hopes to further that aspect of her career. She sees herself always selling on Depop, but would love to expand into any other career involving fashion.
Lee is studying communications at Cal State San Marcos and aspires to find a creative career in music management, at a magazine, or as a stylist. 
Kardas plans to continue selling on Depop as a hobby but hopes to use the app as a gateway to a modeling career and to her ultimate dream of becoming a "bedroom popstar."
View Comments(1)
About the Contributors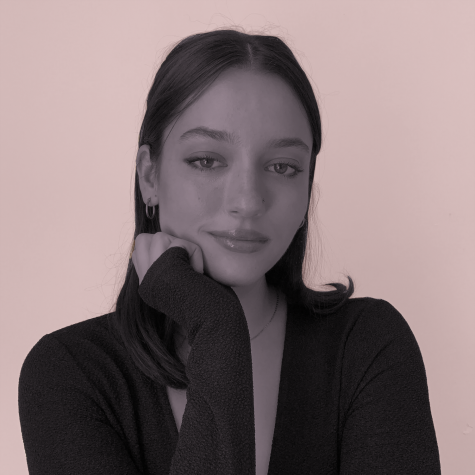 Kenzie Aellig, Editor in Chief
Kenzie Aellig (she/her) is the editor in chief of Xpress Magazine. Through her work, she hopes to highlight stories of community and culture, including...