Living in a world that's Black and white, literally
The year is 1967, after an almost 10-year-long process, Mildred and Richard Loving walk out of the Supreme Court, creating history by legitimizing their marriage as a Black woman and a white man.
"I say, I think marrying who you want to is a right that no man should have anything to do with; it's a God-given right I think," said Mildred in an interview in 1967.
The Loving v. Virginia case legalized love no matter the skin color for generations to come.
With racial tensions in the United States so high, being biracial can feel like an internal and external battle between two identities – too white to be Black, yet too Black to be white.
How does one navigate two different worlds, worlds where it was illegal to exist in the confines of marriage only 54 years ago?
The Present
Fast forward just 49 years, a whole generation later, the U.S. Census Bureau reported that the percentage of interracial marriages grew from 7.4 in 2000 to 10.2 percent in 2012-2016 and continues to grow.
With increase comes new experiences and unfamiliar territory to navigate, yet still, some things stay the same.
In May of 2020, Los Angeles and the rest of the world erupted in protest over the deaths of Jamarri Daiwon Tarver, Tyree Davis, Tina Marie Davis, Alvin Cole, George Floyd, Breonna Taylor and hundreds more.
The ever-present chasm throughout the country deepened that summer.
"[…]it feels like I'm not Vlack enough to stand up for the cause [The Black Lives Matter movement] sometimes," said Tiffany Richardson, the daughter of a Black man and white woman –now a mother to a four-month-old multiracial child in Southern California.
That summer, relationships ended, hurtful words said, fear ran high and families had tough conversations.
Richardson said that time was especially difficult for her family. It was the first time she saw her mother, Debi Ferguson, actively defend the movement to her side of the family.
In Ferguson's family, there are a few police officers. As a result, many of the opinions from her family were fueled in defense.
"I think that was the first time all of us, my mom, my sister and my brother, felt tension within our (extended) family," said Richardson.
Ferguson couldn't recall any conversation about race when she began dating her children's father. Nor when she first became pregnant but found it interesting that 30 years later, tough conversations were now taking place.
"You'd think there would be a progression, but there really wasn't," said Ferguson.
There are millions of combinations that can occur in any family based on the parents' physical characteristics. That number increases significantly when the parents are from different races.
The only real obstacle Ferguson recalled learning was how to do Richardson and her sister's hair. Richardson has tight bouncy curls, whereas she described her sister as having wavy hair.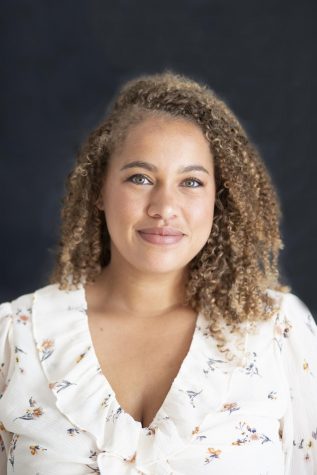 "I just remember when you [Ferguson] did my hair it was crazy, my stepdad did my hair," Richardson laughs.
"I learned from him too, how to braid her hair," Ferguson admits.
Richardson remembers her stepfather braiding her hair on most occasions when she was younger because he was more familiar with what curly hair requires.
Small things can add to this feeling of not belonging, such as having a parent whose hair is unfamiliar to their own. Luckily, now with the immediacy of the internet, there are resources, such as YouTube and blog tutorials, for parents to learn how to style and manage different hair textures.
The Pew Research Center in 2015 surveyed multiracial adults in the United States. It found, "by contrast, six-in-ten Americans with a white and Black background (61%) believe they are seen as Black, and only 19% say they would be seen as multiracial (an additional 7% say they would be perceived as white only)."
The survey also found that roughly one-in-five multiracial adults felt peer pressured to identify as a single race either by people close to them or society as a whole.
"When you're with your white family, you feel like you're not white enough, right? When you're with your Black family, you don't feel like you're Black enough," said Richardson. "Even with my friends, [I] always got the stereotype like, 'Oh, she's a good dancer, because she's Black.' But then, 'Oh, you're talking like a white girl right now.'"
The tension between living in a Black and white world can sometimes feel tangibly disorientating. How does one live in two worlds at once? Based on what race you "present" the most, assumptions start to form.
For Richardson there were "a lot of little things" her Black friends would reference in passing assuming she would understand. "I can't make that connection because I didn't experience that," said Richardson.
Growing up in Irvine, Richardson was hardly around anyone who looked like her besides her siblings. She has always been deemed the "Black friend" among her non-Black friends.
Similarly, among biracial adults, one in five in the Pew survey said they have felt as the go-between between different racial groups.
The Journal of College Student Development published an article written by Assistant Professor at University of California, Los Angeles Jessica Harris entitled, "Multiracial Campus Professionals' Experiences with Multiracial Microaggressions."
In the article, Harris writes that the definition of racism is so cut and dry.
"Put simply, if an act of racial discrimination does not fit the narrow definition of racism, put forth by white society, then it cannot be named, addressed, nor redressed," writes Harris.
According to Harris, for those that experience racism outside the form of segregation and terrorism, it becomes almost impossible for white people to understand how their microaggressions, subtle remarks, or the institutions put in place could be "racist" when racism only takes on the form of a white hooded white man.
"It's the little things that end up building up over time," said Richardson.
The Past
Richard and Mildred weren't the first to start this fight towards legitimizing interracial marriages. They were just the ones to end it.
In 1883, before the Loving's, there was another love story. Tony Pace, a Black man, and Mary J. Cox, a white woman in Alabama. The court ruled that this anti-miscegenation law, the banning of mixing races, was constitutional because it equally punished Black people and white people.
The couple were each sentenced to two years in the State prison – simply for being in love.
Similarly, five weeks into the Loving's marriage, the couple were asleep in their bed when Mildred awoke to a sheriff shining his flashlight in her face at 2 a.m. Unbeknown to them, their marriage was considered a felony. The couple was then forced out of bed and into a jail cell.
Rather than sentencing them to a year in prison, which was customary at the time for that crime, the judge decided they were not allowed to come back together to the state of Virginia for 25 years.
The Lovings didn't accept that answer, which started their 10-year long fight and resulted in today's world.
The Future
In 2019, Richardson married a man named Jesse Ben-Ron, who is half Filipino and half white. Together they welcomed their son Ezekiel Ben-Ron into the world this past January.
According to the 2018 United States Census, by the year 2045, the majority of this country will completely flip. No longer will the majority be white. It will be multiracial.
Because of the Lovings 10-year long fight, we have now created a society within four generations that will soon no longer be able to keep track of race as a result of how interwoven we will have become.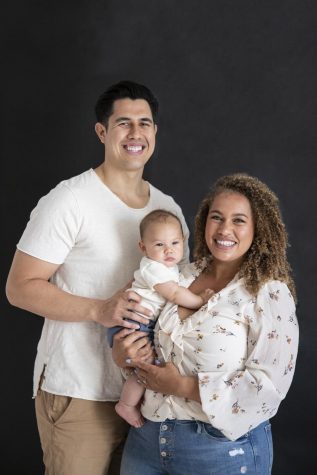 Leave a Comment
About the Contributors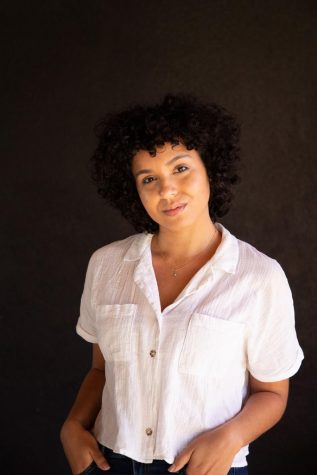 Maddison October, Editor in Chief
Maddison October is a 22-year-old photojournalism major with a minor in anthropology, she was born and raised and still currently resides in the Greater...