Women's Center, Not Just for Women
SF State's Women's Center celebrates 50 years of serving students.
Fog hovers over the Cesar Chavez Student Center on a weekday at SF State. As students rush to class, Kailey Flores wanders on the third floor of the building, stopping by room T-116. She sits on the big black couch in the middle of the room, known as the Women's Center, and shares her thoughts with assistant director Quiani Owens. 
The Women's Center is an Associated Students organization that aims to provide a safe space for all students. The center is also a helpful resource for students who menstruate, providing free access to period products. 
"The Women's Center is an advocacy and resource center to support victims of domestic violence, sexual assault, housing insecurity, food insecurity and so much more," Quiani Owens, the assistant director of the Women's Center, explained. 
All students, regardless of their gender, are welcome in the center during school days to chat with directors,  look at posters of past events, or just hangout. . Gathered in a wooden library on the left side of the room, books can also be spotted. This small collection creates a library of stories about women's history. The books are available for students to check out and bring home. 
"People can come and check out books." Owens said, "They are about fiction, memoir, feminism, sexuality.
The association opened on October 3, 1973, and was originally located in the Administration Building. The creation of this safe space, as defined by Owens, happened only a few months after Roe v. Wade — the historic Supreme Court case that legalized and protected abortion rights.
But 50 years later, the landmark decision has been overturned. The Women's Center has kept student's needs in mind over the years, providing for them all of the resources they needed. Now more than ever, it is  important to share information about Planned Parenthood and how to get a safe abortion – all information that students can find at the Women's Center. 
When the Women's Center was first created, it had slightly different goals. The student handbook, a manual that collects the foundation stories of many student  associations at SF State, has a map of how the university campus looked in the '70s that mentions the founding of the Center, describing it as a "comfortable environment for women to share together their skills, interests, needs and talents."
According to Owens, the center first opened up as a breastfeeding and pumping zone for mothers who felt uncomfortable and judged for doing it outside. This created a safe space for them. 
"They needed a space on campus to be able to be mothers and students at the same time," Owens explained.
Naz King, an exchange student from Turkey who is majoring in sociology and psychology, came to San Francisco because of her interest in studying diversity, domestic violence, gender inequality and LGBTQ+ communities. She was drawn to the Women's Center after seeing their table during an event on campus, and applied for an internship.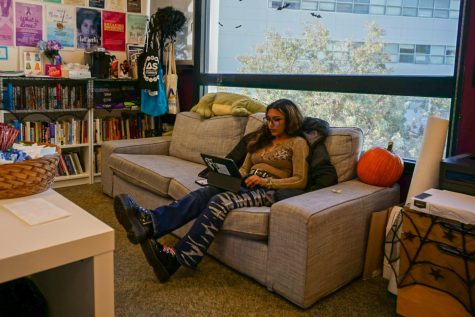 "I saw their program during tabling. I am very interested in issues related to partner violence, rape, gender inequality, diversity — so I applied for the internship," King said. 
In the past years, the Women's Center has branched out to organizing events and workshops. They just held their sixth annual "What is Love?" event, touching on topics like domestic violence and intimate partner violence. 
During this two-day event, booklets were distributed to students in Malcolm X Plaza to spark a conversation about  the question "What is love to you?". . Participants were asked to write down their answers on a poster. Some quotes read: 'Love to me is security, love to my partner is freedom, 'Love is patience' and 'Self-love and being mindful of the boundaries of others and yours!'. The second day featured a workshop on healthy relationships, with a guest speaker from SF Women Against Rape.
Owens said that usually they have a pretty good turn out at these events, and now that they know their audience, they can advertise them on apps like TikTok.
Flores mentioned that on a campus like SF State, where students commute and have to juggle classes with work, it can be hard to spread awareness about the existence of certain services. That's why the Women's Center is trying to find new ways to engage with students  via social media and workshops.
"There's not a really big community of students on campus, because people come here mainly for classes," Flores said. "So I think there needs to be an effort in getting the word out there. Social media are useful, but [so] is tabling. When people walk on campus, they can see free tampons and learn about the Women's Center."
The Center is also attempting to tackle period poverty — a phrase referring to how expensive period products can be for those that menstruate. These products are taxed as luxury items instead of basic necessities, increasing their expense. 
In California, as of January 1st, 2020, period products were not taxed anymore. However, a pack of 34 Tampax in 2022 still costs on average $10.49, according to The Guardian. Today, 22 states in the US still tax period products. 
"It's expensive to menstruate," said Flores. "The university should offer free tampons and pads, because women don't choose to menstruate." 
The Women's Center gives out free tampons and pads to students that can be picked up from their room or found at their events. They are also available in the public bathroom at the student center across from the center's room. Recently, they also started handing out pregnancy tests, which can be taken anonymously at home. 
"I think it's great that the center is operated by students. It makes it easier to talk and share, because you can feel safe and be on the same page, and people need to be aware of the existence of this place," said King.
Those who work at the  Women's Center take part in a mandatory trauma training, where they learn how to help students coming to them with hard experiences they want to share. Owens explained that they are mandated reporters, which means they are required by law to report situations such sexual assault and domestic violence.  They are transparent about this when students come in and want to share their experiences. 
Some people are more timid when it comes to sharing traumatic experiences,so the Women's Center aims to offer everyone a safe space to hang out and talk. Owens explained that if a student is seeking help but does not feel comfortable in sharing details, the center can still help by directing the students to designated help centers, or letting them know where they can seek more help.
"I know that whatever I say is going to stay in that room, and I don't have to be careful about what is stressing me. I can just share," Flores said.
Owens also explained that there is still a misconception on the fact that the Women's Center, due to its name, only helps women. 
"We always try to redirect that and say that we are open to all students because cisgender students are not the only ones who are affected by domestic violence," Owens said.
Leave a Comment