Caught in the Trap
Words: Kayla McIntosh
Photos: John Ornelas
A small club in San Francisco's South of Market neighborhood is buzzing this Thursday evening. The air is crisp. The temperatures are low. And the music is blaring. It's 10 p.m. and Temple nightclub is in full swing. This is ground zero of the newest and trendiest electronic music genre. This is Trap.
Intertwined with the city's well-established dubstep scene, Trap music DJs share Thursday nights with its bass-heavy sister genre. It's still early, but a crowd has already begun pouring in. The music is so low, the walls vibrate while the DJ spins on his tables behind the small glass booth set at the back of the room. It's dark and so is the music. The sound of dubstep saturates the dimly lit nightclub. Girls with furry teddy bear backpacks are scattered throughout the club, bobbing their heads to the slow, yet unrelenting throbbing of the music.
Inside a small room known to regulars as the Destiny's Lounge, off-white walls are lit up by bright red lights. Crowds of guys and girls with tatted-up arms and funky haircuts line up in the psychedelic white room and take seats on the plush leather couches anticipating the next DJ's set. A small gathering of no more than 20 people stand around patiently waiting for the beats to kick in.
A dark haired, lanky fellow walks behind the booth, sets up his gear and begins to mix beats. Within seconds, the crowd begins to sway back in forth in approval. It's decidedly hip-hop, but there's something a little different. The beats start off with a bass-heavy build-up like many other electronic sounding tempos but when it drops it sounds nothing like the dubstep that was playing earlier. Sharp 808s, hip-hop sounding melodies and fast-paced snares fill the ears of listeners.
At first, many linger along the outskirts of the DJ booth trying to get a real feel of this music. Minutes later, girls and guys alike begin flocking towards the front of the elevated DJ booth shaking and shimmying to the sounds in their own individual way. Here, it's not about how great a girl dances, how attractive a dude looks in his jeans and tee combo, or how drunk someone can get by raiding the bar a few times. Instead, the main focus is the music.
This isn't dubstep and this isn't hip-hop. So then what is it? What are these unique new beats that have began to take the electronic dance music (EDM) scene by storm? The latest wave of gangsta rhythms to hit the EDM scene has been labeled Trap music.
In 2003, Atlanta-bred rapper, T.I., emerged on the scene with his second studio album titled, "Trap Muzik." It skyrocketed to the number four position on the Billboard 200 chart. A hip-hop artist by the name of Yung Joc began to make himself recognized in 2006 with his bass-filled jam called "It's Going Down." Catchy lyrics like "meet me in the trap/it's going down" and an unforgettable beat catapulted the song to the number three position on the U.S. Billboard Hot 100 charts. This song, along with other Dirty South hip-hop, is at the heart of what is now known as Trap. Artists like T.I., Gucci Mane, UGK and OJ da Juiceman have emerged as some of the most prominent stars of the new genre. But what the Bay Area and many other EDM fans calls "trap" isn't necessarily what everybody thinks of.
In spite of its newfound popularity, trap has a long history in hip-hop culture. "Trapping" refers to drug dealing. Chippy Nonstop, a Dubai-born, Bay Area-residing musician who has a modern sounding style of music fusing together sounds from around the world, says "trapping" is "just gutter-ass music made by goons in the literal trap, drug dealing, slanging, stealing cars, slapping bitches."
This new form of music is taking the Bay Area and the world at large by storm. According to Urban Dictionary, trap music can be defined as being "based on use of the 808 Roland drum machine, pitched and re-sampled hip-hop/rap vocals, pipe flutes, gangsta synth leads, and various FX." Nonstop is a bit of a fixture in the Bay Area music scene. Her music video, "Kicked Out Da Club" was directed by the notorious white girl rapper, Kreayshawn. The song is predominantly rap but the beat fuses together the two worlds of electro and hip-hop. However, a new form of Trap has emerged that sounds a lot more electronica than it does hip hop. Rapid synths, relatively unheard of in Hip-Hop, are used liberally in Trap.
Chicago-born DJ John "J5" Hirsch has noticed that the trap scene has really taken off since the beginning of this year. In a small and cramped space with roundtables and laptops set on top of a sturdy table, Hirsch and Hauler are working their magic. A huge glass wall facing the bustling Howard street stands as the focal point of this tiny space. It's Monday night which means that their weekly dubstep show is taking place. A white Mac computer is posted in the right corner with a tiny green light lit up at the top of the screen indicating that the video camera is on. Their set is being live streamed for through their Ustream account (which has had over 3,000 views no less) for their entire hour long set.
As the two DJs switch off, they continuously cheer each other on whenever they hear a dope beat. Hirsch (better known to his followers as J5) is not would you expect from a trap enthusiast. He's a slender guy and has piercing blue eyes. His long brown hairs grazes just past his shoulders and is covered with a fitted cap. He's sporting a black tee with the "The Town" plastered across the front and it matches perfectly with his dark, saggy jeans. J5's demeanor is cool. He's extremely focused on his music and takes a mere two or three seconds to choose which song he wants to drop next. A sign of a someone who knows exactly what they're doing.
After the hour-long set is complete, Hirsch, Hauler and a new addition, David Young are all sitting in side room catching up. They're discussing the music scene and the relevancy of this new style of Trap music.
"When I first heard it, I was like 'This is basically hip-hop'," Hirsch says. He and fellow dubstep enthusiast known to many on the EDM scene as Nebakaneza collaborate on Ritual dubstep which runs at Temple nightclub on Thursday nights. Hirsch has an hour-long set in which he mixes some of dubstep's most popular sounds.
Hirsch's feelings on trap are more optimistic and look at the good in what trap is all about. "It's basically Southern trap re-energized," he says. Not all would agree with him.
"The genre is limited," Young groans. Young, better known as DJ Rastatronics, has been in this business for more than fourteen years. Since moving to the city a couple of years back from Davis, California, he's been making his way into the San Francisco DJ scene. He currently holds it down at Shine lounge in the SoMa neighborhood and spins every Wednesday night. A reggae devotee, (hence the "rasta" in his name) his feelings about Trap are rather mixed.
"I can listen for like an hour and then I'm over it," he says. He claims that artists have been performing this style of music for years and he's not quite sure why they're getting all this recognition now. Maybe it has something to do with the fact that southern hip-hop has been making a huge impact on the music scene in the past couple of years. Going to a club nowadays and not hearing one Waka Flocka or Gucci Mane song is nearly impossible. Lounges like Otis have been hosting regular trap nights where they play club bangers like "Hard in da Paint" and "Trap or Die 2." Once songs like that come on, the crowd goes crazy. The most bizarre part about it is the throng of people are predominantly hipster kids walking around with glasses without lens and tanks tops and skinny jeans. The complete opposite of the black artists that live this trap life and rap about it in their catchy songs.
Some of the most popular Trap artists that follow this hip-hop electro style of music include Flosstradamus, Trill Murray and RL Grime and Salva. Their heavy usage of bass and laid back rhythms have caused for a frenzy of Trap nights to sprout up at venues throughout the city.
Trill Murray ("trill" meaning true + real) has can be considered a Trap music pioneer. Just recently dropping his EP "Lust" in late October, his sounds are an interesting take on this new genre. His confusion on why the two worlds of EDM and hip-hop can't collide leaves him at a loss.
"To be honest, no one owns music," he says."You can do whatever you want. Its not a big deal just have fun and don't care as much. It's not the end of the world."
Trap musicians and enthusiasts are caught between two different opinions- one that says is Trap music is the future of music and one that says it's ripping off what hip-hop producers like Zaytoven and Lex Luger have been doing for years.
Back in the "It's basically just hip-hop instrumentals," he explains.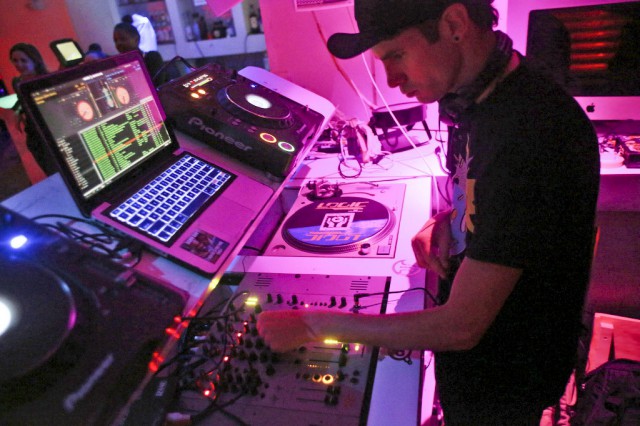 DJ UltraViolet runs Trap City, a party organization dedicated to promoting Trap themed parties, got up and running just this past summer. "I've know about Trap music for years but started throwing it into my sets at the beginning of this year," she mentions. Trap City is a monthly event ran by DJ UltraViolet and claims to be "SF"s first all trap music monthly," and their first event was this past summer in July. Some of the artists that have landed on the ticket have been Trill Murray, Chippy Non Stop, Lil Debbie, and Heroes x Villians.
How are all of these artists able to make such unique sounding music and have such a huge effect on the EDM scene today? Some would argue online music sharing makes a huge difference.
"It's all Internet based," says Erin Bates, a lifelong hip-hop and EDM music lover. Bates who has been following the Trap scene for a while now sees the web as being the reason why some of the artists have taken off and this style of music has gained such popularity amongst today's youth. Bates is standing outside of San Francisco State University's Mary Ward dorm and holding on to a barely lit cigarette. Her hair is blonde and long and she wears a long and flowing skirt that just barely grazes the ground. Her hoop nose piercing hints at the inner badass of her personality. Bates sees trap as a mere intermixture of hip-hop and EDM at its best.
"If it wasn't for the Internet, they wouldn't be exposed to each other," explains. Be that as it may, the Internet is responsible for catapulting many people in to fame these days. There's always new talent, like two little youngsters, Sophia Grace and Rosie, who covered Nicki Minaj's "Super Bass" hit and collected over 39 million views on YouTube and an appearance on Ellen Degeneres performing with the animated rapstress herself. Fame can be strucken quite easily- only thing necessary is an Internet connection and a little pizzaz. Nowadays, 15 minutes of fame isn't hard to achieve.
The Internet is everything when it comes to this generation. People check their phones more frequently than they check their actual mailboxes at this point. At any given moment, navigating down the street can be like navigating through a herd of visually impaired zombies. People are constantly updating their status or tweeting out some hilarious 140 or less anecdote to their hundreds of followers. It is no surprise that the Internet is paving the way for Trap music and its artists alike to make their beats be heard.
Soundcloud, a music and social networking site, is the future. The site is allows anyone with an account to upload music to share it with the world. Followers of accounts have their timeline flooded with a myriad of new songs a day. As their website describes, it "takes just a click to share sounds to Twitter, Tumblr, Facebook and Foursquare." Trap music is thriving in parts to the successes of this innovative site. Flosstradamus alone has nearly 42,000 followers while up and coming artists like Trill Murray and RL Grime have around 1,776 and 11,633 respectively. The significance of it all is that there are people who are willing and able to listen to this music from a variety of regions in the world. Trap's recognition is becoming much more apparent than it was over a year ago. These familiar sounding beats are no longer just exclusively for those interested in trap music. EDM artists have modified it in such a way that is versatile and relatable to all people and not just to people sitting in a trap house in East Atlanta.
Compared to the composers of the original Trap movement, which are usually Southern-based rappers who pride themselves on having money, cars and more women than one man can handle, the followers of this new style of music seem to be anything other than that. Predominantly college kids who are rocking out to dubstep and house music dig on Trap more than anyone else.
Nonstop says that many of the Trap producers have done an excellent job at making the music "more relatable, crazy and insane for even college bros to 'turn up' to." She may be onto something. Hamilton Augustine works for Swing House Studios, a music studio that rents out studios and equipment to musicians, and is still unsure of where this movement stand and will stand in the future. Augustine, who has an encyclopedic knowledge of music, isn't sure if he can get into it yet.
"I think for fans of digital music, it's great," he notes. Augustine who went to the Eagle Rock Music Festival in Southern California this past October and saw that many of the EDM musicians' sets included some Trap.
"I saw Daedalus spin a predominantly trap set this year which I wasn't expecting but the crowd was very young and into it," he says. Be that as it may, do any of these youngsters know where the history of this music really lies? It's not from the soundboard of the latest producer but in the tough streets of the South where the drug cartel resides. Still it is gaining popularity and spreading all up and down California's club scenes. Trill Murray performed a show in Los Angeles this past Halloween and Flosstradamus held it down at 1015 Folsom within the same week.
There is no denying that Trap is here and not going anywhere for a while. Music is omnipresent. " I'm all about change and moving forward," Murray admits. "I love it when people push the envelope and come up with something new." And that is exactly what Trap is all about.