Kombucha Me Crazy!
Words: Hassina Obaidy
Photos: John Ornelas
The strong aroma of vinegar filters the air of 26-year-old Lewis Scaife's San Francisco flat. He's well accomplished in the hobbies department, dabbling in hip-hop instrumentalism and whips up homemade ginger beer. His latest quest: brewing kombucha tea.
Kombucha is a fermented sweetened black or green tea with a carbonated, tangy vinegar flavor that was first brewed in Asia and consumed for thousands of years. While not endorsed by the Food and Drug Administration, kombucha is purported to have a variety of positive health effects. As it is a raw food with live bacteria and active cultures, Kombucha bottles claim that their probiotic nature help to maintain healthy levels of bacteria within the body, and the lactic and gluconic acids aid in liver detoxification.
In the kitchens of many San Franciscans, brewing kombucha is a widely popular hobby and is considerably cheaper than buying the bottles in stores. Prior to home brewing, Kristina Kerley, senior at San Francisco State University, would spend about $25 per week on ready made tea like GT Kombucha, or Healing Springs. She began brewing just a couple of months ago after taking a quarter of the mother culture from a friend. What looks like a round-shaped, raw chicken cutlet, the "SCOBY" (Symbiotic Colony Of Bacteria and Yeast) also known as the "mushroom," or "mother" is the culture that forms in the tea jar and rises to the top when fermented after a week. After brewing a couple of batches, Kerley's mother culture reproduced five kombucha "babies." These "babies" grow bigger and turn into mothers, and are then stacked in an unflavored kombucha jar called the "SCOBY hotel."
More than a year ago, Scaife began brewing in his own small kitchen in his Mission District apartment. Large jars of already prepared tea litter his flat, as well as a 409 bottle filled with vinegar, a drawer full of various kinds of tea bags, and a large, round "SCOBY."
Scaife says the current culture he is using in his SCOBY hotel is hundreds of years old.
"It's like when you take a trimming off of a plant and you plant it, then you take a trimming off of that plant and so on," he says. "The plant itself is very, very old, it's a composition that's kind of like a clone."
Scaife, a support technician at Sacred Heart Preparatory School in the Mission has been obsessed with different home fermentations. He began fermenting pickles prior to kombucha tea and became more and more interested in how preserved foods work without necessarily being chemically preserved. He read about kombucha, ginger beer, and a variety of other fermented drinks.
The kombucha vinegar is a valuable ingredient for cooking as well. Along with salt, it can be used as a marinade for tofu, or meat and adds a whole new depth of flavor. Scaife says that it's also good for breaking down some of the proteins in meat, or tofu and making their nutrients more absorbable by the body.
"The drink itself is very delicious and it's just a fun little thing to have at a party," he says.
Kerley says she feels energized after drinking the fermented tea, although this side effect is not scientifically proven. She began drinking kombucha at the age of 18 when she caught the swine flu and her co-worker at the time urged her to drink kombucha. "It will knock the shit out of you," she said to Kerley.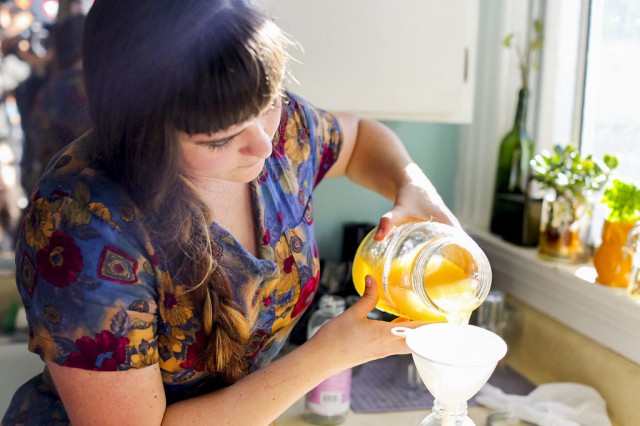 She had no idea what it was, but decided to buy a bottle anyway. By the end of the day, she says her temperature went from 101 degrees to normal temperature.
"It definitely knocked the shit out of me," Kerley says. "I feel so much better when I drink it. It's just one of those natural things that helps."
SIDEBAR
The Do's:
Avoid older, neglected, dried out cultures.
Cover the SCOBY hotel with a cloth.
Ideal temperature for brewing is 74 to 89 degrees.
Kombucha should not be disturbed during the seven-day initial brewing process.
Make sure to refresh the culture with unflavored kombucha.
Sanitize hands with vinegar, NOT SOAP- it kills the culture.
The Don'ts:
Brew under direct sunlight.
Leave the culture under the sink (too damp), in tightly enclosed space (no airflow), or next to a window (sunlight, hot or cold temperature).
Add lemon or pineapple juice because it has a flavor agent & prevents the culture from doing its job.
As living organisms, SCOBY's need rest too! The SCOBY hotel [PHOTO]
Purported Health Benefits:
Contains probiotics- healthy bacteria
Improves digestion and increases metabolism
Alleviates constipation
Detoxifies the liver
High in antioxidants and polyphenols
Gives you a boost of energy
Relieves headaches and migraines
Helps lower glucose levels
Heal eczema – can be applied topically to soften the skin
Improves eyesight
Prevents atherosclerosis
For more health benefits visit KombuchaKamp.com.
View Comments (2)