Wet Burritos, Dry Humor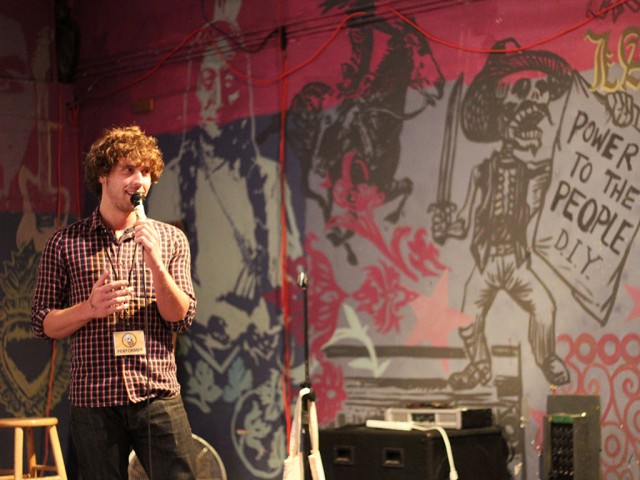 Words: Babak Haghighi & Molly Sanchez
Photos: Babak Haghighi
Sharon Houston, a dark-haired comic from Los Angeles, stands in the oval of light cast on the dark stage of a Mission District venue. Behind her is a wall covered in murals from the gorgeous to the graphic.
Squinting out at the giggling crowd at SUB-Mission in the darkness, Houston makes this assessment, "there's some crazy f–ks in San Francisco!" The crowd whoops appreciatively, and she smiles before asking, "What the f–k do you eat in the Mission?"
Burritos. The answer to many of life's questions, let alone Houston's. Lines of people queue up in front of the assembly line of Pancho Villa Taqueria, waiting to redeem their voucher for a free burrito, a perk only allotted to festival pass holders. The smell of cooking carne asada is thick and intoxicating in the air, and patrons can hardly scarf down an entire burrito full of it before scurrying off to the next show.
Many clubs usually enforce 'no outside food or drink' policies, but at the San Francisco Comedy & Burrito Festival, held this year from Oct 11 to 13, outside food is encouraged—as long as it's Mexican.
According to Ameen Belbahri, co-founder and executive director of the San Francisco Comedy & Burrito Festival, the tortilla and its contents are an essential part of partying in the city.
"The Mission experience, which includes drunkenly gorging yourself on a giant burrito, is about as San Franciscan as you can get."
He and co-founder Jeff Cleary decided to start the festival after seeing the popular Bridgetown Comedy Festival in Portland. "Having met and befriended comics from all over the world, I learned that it [San Francisco] is also a city that comics from everywhere else want to visit and perform in," says Belbahri. "That mixture of amazing local talent and being a popular destination spot for comics is what made it a great city to have a festival."
The three-day festival featured more than a hundred comedians in well over 40 shows at six venues in the Mission, as well as an ongoing open mic. Not one of these shows had a shortage of burrito-eaters in the audience.
But why burritos? For San Franciscan comedian Drennon Davis, it makes perfect sense.
"San Francisco is pretty snobby about food in general and very proud of the Mission burrito," says Davis, who was featured in NBC's Last Comic Standing. "The comedy scene is also like that. We tend to have a higher grade of comedy that's also very unique in style. We're proud of it, so it only makes sense to put the two together and celebrate them."
Performers and their audiences alike scrambled across the Mission district for three straight nights, constantly moving from venue to venue and from taqueria to taqueria.
Jeff Cleary, a veteran of the San Francisco comedy scene, co-produced the festival alongside Belbahri. The two assumed the event would be somewhat low-key, so they figured they could handle running the event on their own. But with an unexpected sell-out of festival passes, things were much more hectic than they anticipated.
"It's a huge cocaine party without the cocaine," says Cleary.
As the event went on, seats filled up, and things gradually began to fall into place.
"Next year, it won't be a two-man operation," Belbahri says.
Cleary used to organize an open mic at Annie's Social Club, a former venue in the South of Market (SoMa) area. The open mic became a weekly haven for a struggling group of up-and-coming San Francisco comics. At the Comedy & Burrito Festival, Cleary brought the gang back together, or as much of it as he could, in an Annie's Social Club reunion show at The Dark Room.
"It's a shame we couldn't get any female comics from Annie's to be here," said Cleary. "They're all busy with actual, successful careers. The rest of us are here."
Successful or not, San Francisco comics take pride in making their city a funnier place. "I love the kind of comedy we produce," says Davis. "We tend to cultivate the weirdos of the comedy world."
Weirdos. And they perform in weird places. For example, Brainwash, part café, part laundromat, hosts a popular open mic comedy night every Thursday in SoMa. Lost Weekend Video holds comedy nights in their tiny, brick wall basement, also known as the Cinecave.
Not only does San Francisco breed the weirdos of comedy, but it attracts them as well. Comics from all across the country come to San Francisco to showcase their comedic talents to the awesomeness that is the San Francisco comedy crowd. Louis C.K., a king among comics, sold out all four of his mid-November San Francisco shows almost instantaneously when tickets went on sale during the summer. Dozens of big-name acts in the comedy world come to the city, whether it's to play a small club, record a popular podcast, film a DVD, or sell out a massive symphony hall. It may not be the show-business heavyweight that Los Angeles is, but when it comes to comedy, San Francisco puts up a knockout fight.
Guy Branum, one of the higher-billed performers at the Comedy & Burrito Festival, was glad to return to his hometown by the bay to perform. On stage at The Dark Room, Branum reminisces about going to college in the Bay Area.
"I lived in the affordable part of San Francisco," says Branum. "It's called Oakland. I lived in the part of Oakland with a lot of white people. It's called Berkeley."
Every up-and-coming San Francisco comic dreams of landing a headlining gig at Cobb's Comedy Club or Punch Line, two of the top comedy venues in the city. But to get there, they have to hit the open mic circuit first.
"It's great to see people do their amateur stuff and to see their process," says Raj Dhar, a local comic who volunteered at the Comedy & Burrito festival. "When I first started, I hated doing open mics. I hated waiting around to only get three or five minutes. But now I realize that's what you've got to do—try to get out as much as you can."
There are many other open mic comedy nights held in virtually every corner of the city. San Francisco's open mic scene gives amateur comics plenty of chances to test their material and make a name for themselves in the scene.
As far as comedy festivals in San Francisco go, SF Sketchfest wears the crown. The annual festival will celebrate its twelfth year in January. In 2012, the festival hosted hundreds of performers at more than a dozen venues throughout the city. Festival shows feature stand-up comedy, sketch comedy, improv troupes, live podcasts, film screenings, TV-show reunions, musical guests, and all things comedy. Simply put, during Sketchfest, San Francisco is the funniest place on the planet. In time, however, the Comedy & Burrito festival may end up giving Sketchfest a run for its money.
"It's a little unfair to compare the two," says Davis. "Sketchfest is absolutely amazing, but it took awhile for them to get where they are. If the Burrito Fest continues, which I imagine it will, I could see them with similar success without being in competition with Sketchfest. Burritos aren't going anywhere, and neither is comedy. It's a pretty safe bet to say that the festival will keep getting bigger."
Despite almost-detrimental technical difficulties during his headlining Friday night set at The Dark Room, Davis says he enjoyed everything about the festival. He had only one complaint.
"I wish there was more free beer. But that's just a general complaint in life."
Ever since he found success in San Francisco, Davis has expanded his audience both throughout the country and even outside of it, most recently by performing for a month at the Edinburgh Fringe Festival, the largest arts festival in the world. But for him, nothing beats the comedy scene of his hometown.
"It's the best. Seriously. Great crowds and incredible comics—it's a very symbiotic relationship."