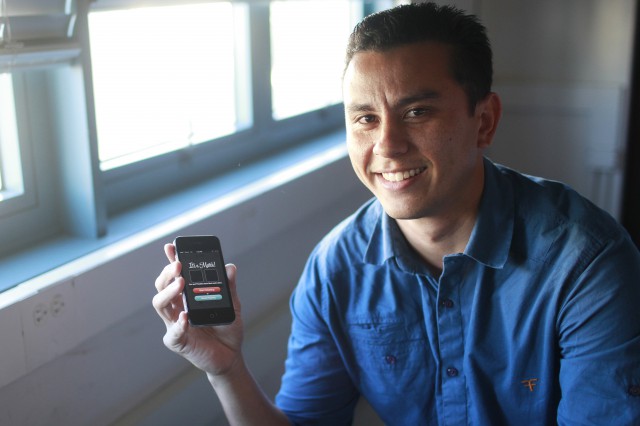 Written by Rhys Alvarado
Photo by Mike Hendrickson
I wrote a column last semester about my single attempt at online dating and how one bad instance would forever pull me back toward the old-fashioned ways of getting laid.
I lied.
Over the summer, busy as I always am, I reverted to using Tinder, the most immediate of online dating apps whose intent is to put you in touch with someone, NOW. My social circle was small at the time and I just wasn't satisfied with the company I was meeting in "real life."
Whether on Muni, waiting for a stop light to let me cross, or in bed at night, there I was, a hypocrite, going against the words I'd laid down -in print- just weeks before, swiping away at hundreds of faces hoping to be matched up with some nearby hottie looking for a quick hook-up.
That's until I came across Colleen, a curvy girl who looked like Mila Kunis, with greyish blue eyes and an infectious laugh.
We went all the way on the first day. We agreed to meet at a Giants game. Pregamed at a nearby bar, knocking down Jameson and gingers as the sun set on the bay, fading from orange to pink to purple as the sailboats made their way back to harbor. We went back to my place, where I eventually brought her to my rooftop (a move I always pull when I'm trying to seal the deal). We made out to the warm clear night, the city skyline bright, as if all its bulbs had just been changed.
It was summer loving at its finest.
Over the next few weeks we got to know each other, exchanged crazy sex stories, talked about past relationships, punctuated with kisses that told me that regardless of the past, she was glad to be with me right then and there.
She had friends in high places. Guys who play for the Giants. Fellas who belonged in bands and wrote songs about her eyes (pretty good songs too). Developers for gaming companies. Underneath it all, I wouldn't be surprised if I was just another batter in the rotation. Who knows? We met online. And on Tinder, meeting people is SUPPOSED to be taken lightly.
But for those three weeks we were seeing each other. She was the only girl I made time for. And somewhere in between her obligation to family, work, and being a social butterfly, she found time to share her life with me.
She was a girl who survived a cancer of the brain. A girl who gave up her full-time job doing makeup to work with dogs, something she endlessly loved. A girl who stayed at home to paint on the night of her junior prom because no one mustered up the courage to ask her. Something I found hard to fathom, but could understand because someone so pretty would cause even the most brave to cower.
Yeah, I fall in love way too easily.
And being the hopeless romantic I am, I'd do hopelessly romantic things. I'd wake up extra early to cook us breakfast, spin vinyls of bossa nova while we sipped smooth, floral amaro after hours, among other over-the-top shit a faint-hearted sucker like me would do.
But in between that dreamy feeling people get when they first meet someone, I couldn't help but think about where our relationship had begun: a shallow screen swipe to the right. What was I supposed to tell people in the instance they asked how we met? "Uh, um, yeah, we met on Tinder." Lame.
Every other relationship or fling I'd ever been a part of was rooted with some cool in-person encounter. With Blair, I met her in the lunch line in the 8th grade. With Caitlin, she saw me sitting on a trolley after work and instead offered me a ride home. With Melissa, she was selling tropical fruits roadside when I was on vacation in my hometown on Maui.
But having been single for almost a year when I met Colleen, the idea of settling down, at least for a bit, sounded nice. And the online exception was one that I was willing to make. Maybe this online dating thing could work out for me. We could meet each other's families. Hold hands in public. Have hot sex on a Monday. Stay in and watch movies on a Friday.
That is until the day she sent me a text out of nowhere telling me that she has problems that need sorting and the space and time to figure them out.
What? Everything seemed to be going so well. What a sudden turn. Was it me? What did I do wrong?
And just like that she was gone. She was out of my life as quickly as she had come into it.
I wouldn't be surprised if I scared her away. But it was good while it lasted.
You can never underestimate the kind of person you may find on even the most casual, half-hearted of dating websites. You may be as lucky as I was to momentarily capture a gem.
Even if that person you meet comes full circle and exits your life the same way they entered it —over the phone.