10 Ways To Stay Sane For Finals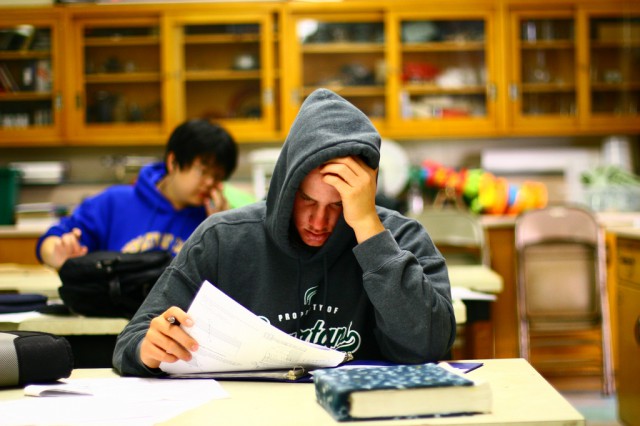 Written by Mariana Barrera
Between tests, essays and the all elusive finals, school is getting harder and harder, but that doesn't mean there aren't ways to making this semester run a little smoother. No need to worry about that too though, we're hooking you up with 10 ways to keep yourself from going a little crazy this semester.
1. Organize yourself
It's simple, staying organized means a less stressful semester. For example, keeping an agenda to know exactly what homework you have to do and when it's due keeps you from rushing to do everything at the last minute or forgetting to do it. Keeping lists is a great way to stay organized, you can use your phone, laptop or keep it traditional. Stay on top of your surroundings as well, do the dishes, do laundry and organize whatever clutter is around you and in your head.
2. Focus
Once you have that list of all the things you have to do make sure to get rid of any distractions that may keep you from achieving that. If you're easily distracted at home try heading to a library or coffee shop to keep you from distracting yourself. If sites like Facebook and twitter are too distracting try SelfControl a free application that allows you to block certain websites for a period of time, and there's no going back once you've blocked them. You can only access them after time is up, so get to your homework!
3.Sleep
With everything going on and trying to balance all of it on the daily makes it so that sleep and college don't go together, but sleeping is more important than a lot of us give it credit for. Giving your body and brain the time to recharge itself not only makes you feel more alert in the morning, but it gives you the energy to do everything you have to do.
4. Ask for help
Seriously, with anything… It'll make life that much easier and regardless of it being academic or something more personal there really is no reason for you to have to go through anything on your own. There are tutoring services provided if you're struggling with classes, and the student health center provides counseling for any personal problems. So always make sure to ask for help, because there will always be someone to talk to.
5. Relax
As we dive further into the semester we are less likely to set aside some time to relax, pushing ourselves to do other more "productive" things, and losing sight that not making time to relax can be bad. If you haven't yet, give meditation a try it can help reduce stress and its claimed to help improve well being in general. If meditation isn't your thing, just do anything that helps you relax, get a pedi, grab a beer, but let go of tasks just for a few hours and reconnect with yourself.
6. Explore San Francisco
You're living in one of the coolest cities in the world; there is always so much to do out there. When all is feeling overwhelming just hop on the MUNI and adventure the city. Go to a park, eat in the mission, it's a city with endless possibilities.
7. Have fun
There's no time like hanging out with friends. You're in college! Go to a football game; grab some dinner, go on a date or just chill with your friends. They'll be there to make you laugh and hold you up when you need to talk or cry.
8. Know your limits
Another word for college could easily be multitask, we all know what it's like to juggle homework, projects, work, and a social life. However, as much as some of us may hate to admit it we all have a limit, and it's really worth respecting it. Piling up work hours for those extra bucks may come in handy, but in the long run that may affect the way you do in school, cut away from your leisure time and just wear you out in general.
9. Have a hobby
When all else seems too stressful, it's always fun to take some time and do just what you like. Go kick a ball, do your makeup, take pictures or whatever other activity you enjoy doing. Having a hobby helps you feel less stressed, because a hobby is an activity that you choose, and it gives you pleasure to do it. Even if you only do your hobby for a short period of time, your change in spirit will be noticeable.
10. Exercise
To some the gym is a haven, but too many of us it's not our first go-to when we have free time, especially when there's so much cool stuff to binge off on Netflix. But next time you're feeling a bit overwhelmed give working out a try. Once you actually put some time into it, you'll start feeling so much better, your mind will be clearer and to top things off you'll be getting in shape!
Leave a Comment