The Peoples' Choice — SFMTA Says Your Voice Matters
It's ten in the morning on a Wednesday, and Jake Richard is packing his bag for the day ahead — double checking to make sure his jiu jitsu gi is clean and crisp. Richard heads out to the BART station for his hour commute from the East Bay city of Pittsburg to San Francisco Montgomery Street station for his Brazilian jiu jitsu class, preceding an eight-hour workday.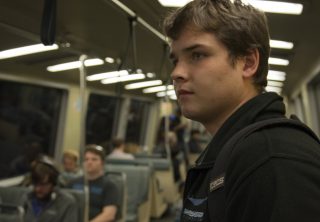 "My daily commute into the city is about an hour long, and that is if my train isn't delayed, which happens often," Richard, twenty-one-year-old Bay Area native said. "The long BART ride isn't too bad, but it really does begin to wear on you after a while — especially if I have to take the last train at 12:15 a.m."
Meanwhile, as Richard travels into the city, a crimson red San Francisco Municipal Transportation Agency table sits at the corner of Mission Street and Silver Avenue in the Excelsior neighborhood of San Francisco. Pigeons surround the narrow street corners from all angles while buses slow to a halt every few minutes on both sides. Passersby often pause to grab a piece of the Ghirardelli chocolate sitting in a bowl next to neatly stacked flyers that are offered in English, Spanish, and Chinese.
The flyers explain a possible solution to a struggle that Richard and other commuters face daily — the necessity for more practical transit lines throughout the city and Bay Area. San Francisco's subway vision map, initiated by Supervisor Scott Wiener, is a long-term project that allows residents to choose where they would like to see the next San Francisco subway line built. This project will be in the works over the next forty years, with multiple new underground and aboveground lines constructed through the feedback gathered from vision maps.
The SFMTA, partnered with Connect SF and the SF Planning Department, has an interactive online platform that allows users to create their own ideal subway route. However, the SFMTA is aware that not everyone has access to a computer, so as a solution they have set up pop-up meetings throughout the city.
These meetings are set up in neighborhoods, like the Excelsior, where the SFMTA received feedback from communities expressing their desire for a physical presence of the SFMTA, rather than offering all of their information and feedback solely through the Internet.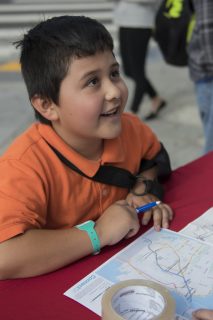 "Equity is one of the main factors of the project," Peter Albert of Connect SF said. "We are really making sure that we are not excluding the underrepresented in this whole process. Basic 101 about equity planning: don't assume everyone is wealthy enough to own a computer, or knows how to work one, or has the kind of time to play around with vision maps online."
During the week, Richard attends Brazilian jiu jitsu classes in Chinatown before work. He said that after his commute on BART from the East Bay, he is exhausted from being on public transportation — because of the limited bus and muni routes going to Chinatown, he resorts to walking over a mile each day to his class. Each day Richard sees other commuters coming from the East Bay into the city for work, which can often make the long commute overcrowded and uncomfortable.
"I don't really follow the SFMTA unless it has to do with my BART commute, so any information I would get about new transportation projects would probably be from something I see in the city," Richard said.
This project is unlike most that the SFMTA has initiated over the years, focusing on the San Francisco population as a whole. The agency is physically sending its employees into the streets of San Francisco to get residents excited, involved, and thinking.
"We know that low income communities, seniors, and young people tend to be the most transit-reliant," District 8 Supervisor Scott Wiener said. "We want to make sure that the people who are most reliant on transit are at the table of this conversation."
Wealth, age, and class are not deciding factors of who gets a say in this project, and neither is the language barrier between English speakers and those who speak Spanish or Chinese.
"We have translation services at all of the pop-up meetings, so it's really more than just doing things face to face with people," Albert said. "It's helping people who don't speak English and would have a hard time navigating a computer to allow their thoughts to be expressed."
Each pop-up meeting has one Spanish translator and one Chinese translator to assist residents who are interested in contributing to the project, regardless of whether they speak any English. Ye Ying Hung is a volunteer translator who is interning at the SFMTA. In Hung's experience, people who don't speak English hesitate to approach the table if they assume a language barrier exists that could potentially cloud their understanding.
"I often have people come up to me kind of shy and ask if I speak Chinese or Mandarin, and when they find out I do then they become much more interested in the topic and conversation of the Vision Mapping," Hung said. "I think it's important for people to feel comfortable speaking their own language when they learn about new projects like this."
At the end of the work day people, began pouring out of the buses that were surrounding the small event. At one point, the table had about twelve people drawing out their vision maps and passionately discussing possible routes that could ease up their commute around the city. Maria De Alva, the Spanish translator at the event, had a line of four people waiting to speak with her in their native language. Maria Castillo and her mother Gabriella, were among the few waiting to find out more information in Spanish.
"My mother does not speak any English, and I only speak a little bit — so having a translator here makes it easy for us to participate in this kind of thing," Maria said. "I think it's nice that we are being thought of. I would like to see an underground subway going through my own neighborhood, which is in Bayview."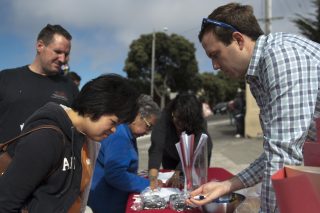 The SFMTA extensive efforts to get the word out was successful in the case of Castillo and her mother. Supervisor Wiener says that a preliminary draft incorporating the feedback received from the public is currently in the works, and should be done within the next month or so. Yet, the project focuses on the next forty years of San Francisco transportation, so how can commuters like Richard and Castillo be sure that the project will maintain its speed in the decades to come? While Supervisor Wiener looks to the distant future, Richard can only focus on his commute for the days to come.
At around two in the morning, Richard is in bed and exhausted after a long day. After spending a total of two hours on BART and walking several miles to navigate himself throughout the city, Richard lay in bed only to repeat the process all over again the following day.
"If there were to be a direct way in and out of San Francisco from the East Bay, then I would really benefit from it," Richard said. "As long as it reduces my total commute time, I'd be happy."
Editor's note: Jake Richards' name has been corrected to Jake Richard from the print edition.