Warriors, mages, and thieves: Together through D&D
Once a week, a rabble of dungeon delvers, explorers, and those just looking to test their mettle gather for their weekly adventure. They descend upon a shop in San Francisco's Haight district, where their quests for glory and treasure unfold around four separate folding tables in the back of the store. This is Gamescape on Divisadero Street, where D&D night is about to begin.
Dungeons & Dragons is certainly not a new game. Originally released in 1974, next year will mark its forty-fifth anniversary. Far from being stale, the game has undergone a renaissance since the release of its fifth edition in 2014.
D&D takes place in a classic medieval fantasy setting. This is a world where magic is real, elves and dwarves walk city streets alongside humans, and (as the name would suggest) where dragons rule the skies.
One of the unique aspects of D&D is that the majority of the game takes place in the "theater of the mind." It's a tabletop game where players craft the story as they go, relying on imagination and the luck of the dice to both create and overcome challenges. Many players bring intricately painted custom minifigures to represent the location of their characters on the game board during combat situations.
Traditionally, D&D was played over multi-hour sessions by dedicated groups willing to invest the time into lengthy narratives. With the fifth edition, publisher Wizards of the Coast developed a system called the Adventurers League that allows people to drop in and out of shorter games. This more approachable play style, along with increased media exposure, is behind D&D's resurgence.
Grant Paul, a high school teacher and organizer for the San Francisco and Bay Area Dungeons & Dragons Meetup group, says that the Adventurers League system is really beneficial for working professionals.
"Every couple weeks I get to get away from work and the kids to play," Paul says, a smile creeping over his face. "It's really the only social activity I get!"
At Gamescape, many of the shelving units and one whole side of the store is dedicated to board games. The glass cases that serve as registers contain rare and collectable trading cards. Behind them is the wall of role-playing game materials. Unpainted miniatures in dozens of varieties can be found alongside the paint needed to customize them. Several copies of the D&D sourcebook can be found on individual shelves.
On that night, there are thirty-three people there to play D&D. Many of the players have dozens of their own miniature characters and piles of patterned dice, which, incidentally, Gamescape sells in spades. Three bucks for random miniatures, five for custom ones. A set of dice costs five to ten dollars depending on the pattern.
While the crowd is small, it's enough to pack the store and make it difficult to hear what any one table of players is doing. According to Thomas Hamilton, the owner of Gamescape, it's been this way every Wednesday night for the past four years, ever since the fifth edition of D&D came out.
"Traditionally, D&D required fairly good reading comprehension to play," Hamilton explains, learning forward in his chair. "But now they simplified a lot of the game. We've had players as young as six to twelve come in and play."
Hamilton took over the store when his father retired. He has embraced it wholeheartedly. His office is covered in game artwork and his computer monitors sit atop a stack of board game boxes piled high enough that the screens are at eye level. Hamilton doesn't play D&D himself, but by now he's well aware of the basic concepts.
At Gamescape's D&D encounter nights, there are normally five tables running. Two of them are for very consistent players, running a style of game very close to a traditional home game. Two other tables run Adventurers League games, encouraging drop-ins and semi-consistent play. The last table is lovingly referred to as the kids's table, where some of the youngest players and first-timers play.
The youngest players can be overheard roleplaying activities they're not old enough to do in real life yet, such as going to bars and subsequently trying to act out what they imagine being drunk is like.
All five tables are run by experienced dungeon masters who volunteer their time, just for the love of the game. DMs are the dedicated hosts of the game—responsible for setting all of the challenges in front of the players. These may take the form of monsters, traps, puzzles, or even an awkward social situation. The players then work together to overcome the obstacle within the limits of their character's abilities.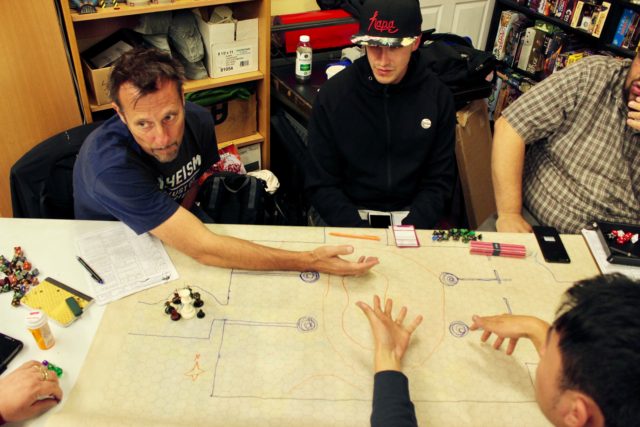 Being a DM isn't easy. In addition to enforcing the rules of the game, they have to be quick thinkers, well-versed in the many volumes of D&D lore, and have a natural flair for imagination. It takes dedication and a true love of the game to be a DM. And you would be hard-pressed to find anyone who treasures D&D as much as Morrigan Robbins.
At Gamescape, the twenty-two year old is running a game for a younger group. One player is a year her senior, but the other four are her junior. As if the store isn't loud enough, the pair of younger girls at her table are laughing out loud about a private joke.
Robbins is attempting to get the game started, but first she has to check with the players about what they did in their last session. Morrigan has been a regular at Gamescape's D&D nights for years, but this week she is subbing in as DM for this particular group of players.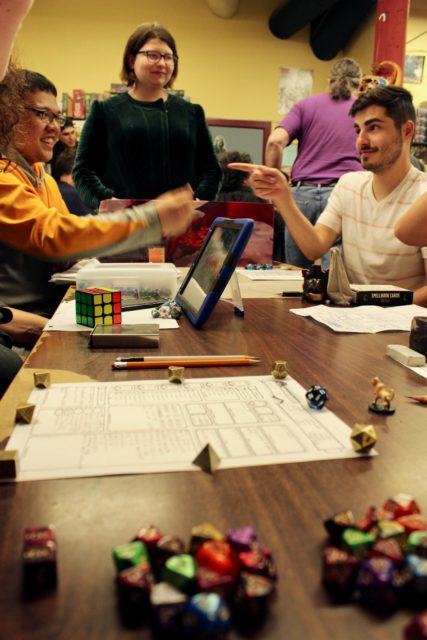 Clad in her green velvet sweater, she stands up, plants her hands firmly on the table, and raises her voice to get the attention of her players. At last she is able to deduce that last session, one of them had been scratched by a lycanthrope and is now a wereboar.
A kind smile, glasses, and a brown bob of hair frame her face. Separating her from the players at her table is a small screen that prevents them from reading her notes. On her side of the screen are a pile of source books and dice. On the side her players can see is the game mat where the miniatures will be placed.
As a few other housekeeping matters get sorted out, Robbins settles in to do her favorite thing: play Dungeons & Dragons.
D&D holds a special place in many people's hearts. There are memories shared with friends, challenges faced and overcame. But for Robbins, it helped her discover who she was as a person.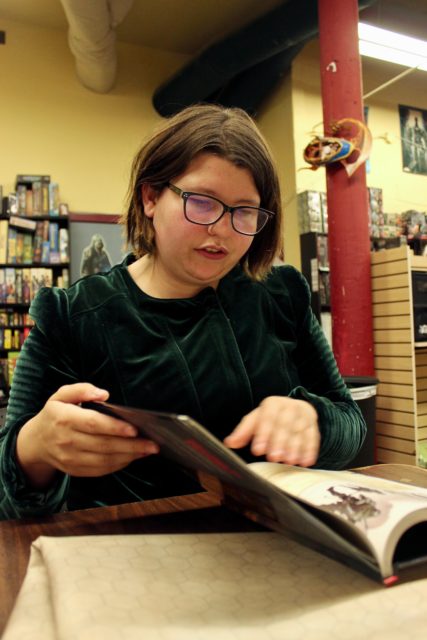 At a young age, she went through the foster care system, living in many different homes throughout her childhood. When she was fourteen, she discovered Dungeons & Dragons.

Being different characters allowed Robbins to explore her own personality. She made many of her best friends while playing D&D. She even managed to rekindle a friendship with someone she knew in the foster care system years after they lost touch, when they happened to walk into a Gamescape D&D night.
"That's what's amazing about D&D," Robbins says, emotion welling in her voice. "It's a safe place for us to be who we want to be. We can be the hero that we can't be in real life. We can be villians if we want to be. Dungeons & Dragons lets you be what you can't be."
And it's not just Robbins who is aware of this. Wizards of Coast have a long history of celebrating diversity in the game they create. In one of the latest settings they created, Waterdeep Dragon Heist, they've embraced the concept of fluid gender. It's that kind of openness that allows a person to be someone else for a while, whether it be through an exploration of sexuality, gender, or personality.
Perhaps that's the real magic of Dungeons and Dragons. Everyone can come to the table for different reasons: to spend time with their friends, to tell intricate stories, or even to discover who they are. Each person who plays the game can walk away with a story to tell.