Putting Down the Razor
It's a Thursday night, and Eduardo Wagar is hanging out in the corner of the backyard patio at the Eagle bar in the SOMA district of San Francisco, nursing a beer and a cigarette as he chats with a security guard. It's early in the evening at the Eagle, so the patio is quiet and mainly empty as a few employees and local patrons mingle.
While the top of his head is bald, Wagar's wavy salt-and-pepper beard stretches from his chin down to the top of his chest. The beard is his number one conversation starter.
"I just stopped shaving," he says, jokingly, but somewhat exasperated.
That is his go-to line when people approach him about his beard. Wagar is used to it. The beard draws him attention from strangers, receiving comments ranging from harmless compliments to fearless flirtatious attempts.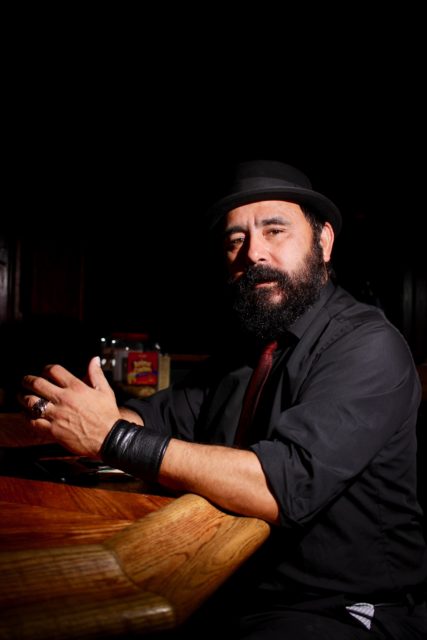 "The biggest issue I've had with my beard is being profiled at the airport," Wagar says, frowning. He is a white, forty-nine-year-old man, but his look tends to arouse suspicion. "It happens every time, so I always plan to get there early. There's a stereotype about what terrorists look like, and every time I go through airport security, I get pulled aside."
One time, Wagar says that he and a close friend were about to leave to go on vacation. They had already boarded the aircraft when security came and escorted Wagar off the plane and into an interrogation room. Wagar sat through questioning as patiently and compliantly as he could. After security determined nothing unsafe during their interrogation, Wagar was allowed back on the plane.
"You could see it in everyone's eyes when they pulled me off the plane," Wagar says, teeth gritted. "They thought I was a criminal."
He sips his beer and falls into silence.
Everyone's got body hair. Fact. We can't run from it, no matter how much time we commit to shaving in the shower. From every fuzzy toe knuckle to coarse nose hair, soft leg hair to dyed armpit hair, mohawk to a soft mustache, it's here. Happy trails, side burns, and chest fur galore. It's up to the individual to decide their hairy destiny.
Later that night at the Eagle, Silver River, lead singer of a punk band, steps up to the bar's main stage. She's her own tornado as she whips her hair back and forth to the screeching guitar and blaring drums. The stage is exploding with noise and she commands it.
River is decked out in blue flare pants and a black tube top, tattoos lacing across her arms and shoulders. When her vocals and the band hit their highest peak, she stretches her arms up overhead, bushy armpit hair peeking out.
"I shaved once," River says. "Santa brought me a razor when I was nine. I shaved my whole body. My whole body."
Her grandmother was confused to say the least, when she noticed her arm hair and eyebrows were gone. But no one had ever shown her how to use a razor or shave before.
As River grew older, she chose not to shave. As her armpit hair started growing longer, she began gathering more attention from the people around her. Negative attention. It made her feel self conscious when she was a teenager, so she stuck to wearing long sleeves and hoodies.
"I would be out doing like construction work, and sweating a ton. It didn't make any sense," River said. She embraced it, and changed to tank tops to better suit her day job.
Now, at twenty-five, River bites back at anyone who wants to comment about her appearance or body hair in general. It is nobody's business to be concerned about her body hair, and she will gladly tell the first person who does to fuck off.
How people wear their body hair affects the way others interact with them, whether it's conscious or not. A seemingly minor concern in everyone's lives can mean a lot in terms of first impressions. Family and structural forces also influence the way people represent their bodies—and their body hair—to the world.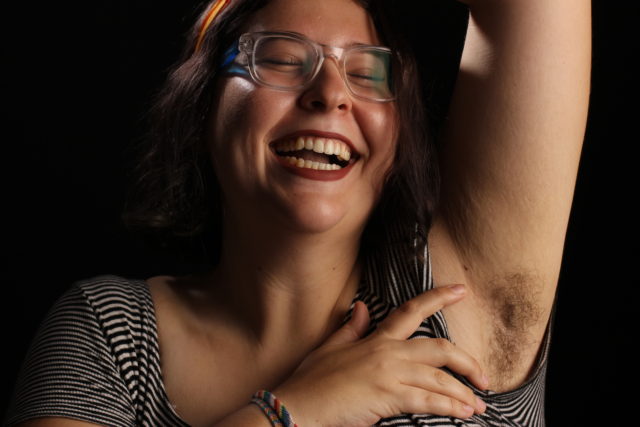 Mel Green is a nineteen-year-old communications student at SF State who identifies as gender non-binary and uses they/them pronouns. They sit with one fuzzy leg crossed across their lap, black skirt creasing as they bend. They emit a calm and confident energy as they peer from behind their white-rimmed glasses, burgundy lips smiling.
They were not always this confident in themselves, their appearance, or their body hair. It has taken some years, a break-up, and plenty of self reflection. For Green, the struggle with body hair began in middle school, not long after that first shaving incident.
"I think there's a general fear of others seeing us with body hair," they say matter-of-factly. "When I identified as a female, I was concerned about not shaving. It made me feel less feminine and less desirable."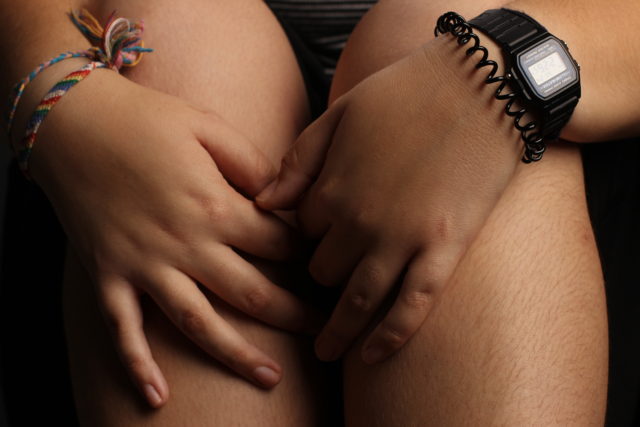 Green struggled with sizeist societal beauty standards, making them feel like they had to compensate for their larger frame. By shaving their body hair, they felt they would maximize the standard of femininity they sought after at that time. Eventually, in high school, Green grew tired of fighting the inevitable, as they also experienced physical discomfort after having to shave their sensitive skin so frequently.
At the time, Green was with a male partner who, throughout their relationship, expressed his disdain for their long armpit hair and fuzzy legs. Green says that he refused to touch the parts of their body he deemed too hairy.
Years later, Green is happy with themselves and happy being without him.
Biologically, hair has the same purpose for everyone. Hair is supposed to keep our bodies warm and keep bacteria out, in the most microscopic ways it can.
It can be a hairy predicament for some, but ultimately, there are no rules.