Forever Golden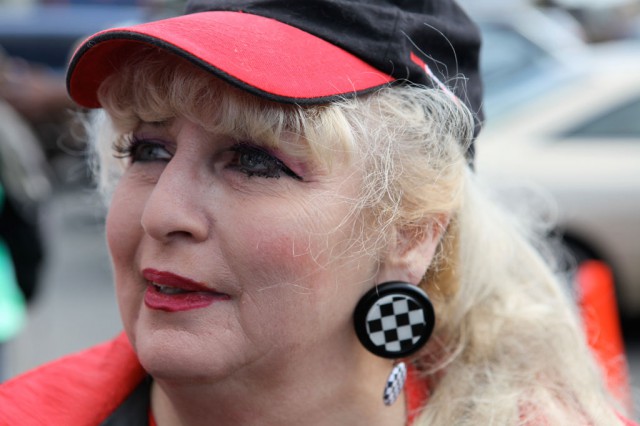 Written by Erin Browner
Photos by Melissa Burman
One day in 1986, Karen Alexander donned prom dress and rushed to Bayview to see Dick Clark appear on a new TV show – KOFY TV's Dance Party. She waited in line among a horde of Bay Area locals who flocked to the network's warehouse to travel back in time.
For dozens of seasons, KOFY TV created a pocket of the 1950s, complete with spotlights, retro sets, and a crowd jiving to the sounds of Little Richard and Chubby Checker to recreate the good ol' days.
Two decades later, Alexander, 67, sits on her apartment floor and digs through boxes of clothing for the next taping session of Dance Party. Her vintage jumpsuits are saved from her years of living in London in the 1980s. In 2012, KOFY TV continues to put on Dance Party, but now the theme is the 80s. Alexander has made a full circle with Dance Party– starting to dance to 50s tracks in the 80s, and now dancing to 80s tracks in present days.
More than the decades have passed during Alexander's fanatic phases of Dance Party. Her apartment overflows with color-coded bags of sunglasses, boxes of lame´ leggings, piles of sequined hats, and closets full of 80s outfits. It's safe to say participating in Dance Party is a hobby Alexander has dedicated herself to. Through the years of attending– she has transformed.
Presently, Alexander, more commonly known as Ladygold, cruises to KOFY TV's warehouse in a gold Camaro bearing a personalized license plate that says "LADY24K." KOFY TV invited Ladygold to host a show viewing the original Dance Party episodes – during the taping she was decked out in gold, head to toe. Ladygold is an expert in Dance Party, she's 67, and she ain't stoppin' the dance party any time soon.
View Comments (3)