The echoes of barking dogs fill animal shelters across the Bay Area, with more dogs than there are kennels to house them. Local animal shelters struggle to find alternatives to euthanization.
According to an Oakland Animal Services report from 2020 to 2022, there was a 31% increase in dogs that resided there. Similarly, in a 2019-2023 report from SF Animal Care and Control, there was a 19% increase in dog residents.
Recently, Oakland Animal Services euthanized two dogs due to the lack of space in the shelter. According to Director of Oakland Animal Services Ann Dunn, the shelter frequently updates its website for dogs who are in urgent need of getting adopted to try to avoid euthanization.  
"At 73 [kennels], we have no space for incoming dogs. So if we're at 100 dogs, that means many of those dogs are in half-kennels, which is really just not fair to them, and something we can't do for very long," Dunn said. "And I'll say we've been able to avoid euthanizing for space largely up until this point, but it's getting harder and harder."
Dunn said with an average of 10 dogs coming per day, the shelter gets an adoption average of 30 dogs per week and yet constantly leaves them at maximum capacity.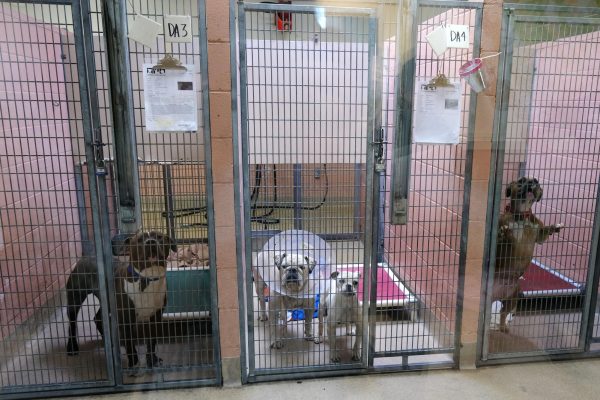 "We're doing everything we can to save these dogs," Dunn said. "But this is not about numbers, right? This is a life that is in our care, and to be in a position where we really felt like we had no other choice."
Oakland Animal Services' underlying issue is partially due to a veterinarian shortage, according to Dunn She also added that people who have animals can't get them spayed and neutered because of a lack of access to veterinary care. 
Pandemics Impact 
Chloe Ettinger, a recent SF State alumna and founder of the Pre-Veterinarian Society Club at SF State, said one of the factors that play into the national veterinary shortage is that it's hard to get into veterinary school, citing her own experience applying to veterinary schools. 
The same holds true even for prospective veterinary students from other schools; the School of Veterinary Medicine at the University of California, Davis, saw 1,007 total applicants for its Class of 2025, but only 149 were accepted. UC Davis's veterinary graduate program is also only one of two in California ‒ the other being the College of Veterinary Medicine at the Western University of Health Sciences, according to the American Association of Veterinary Medical Colleges.
Ettinger also said from her understanding, a factor of the overcrowding is adoptions made during the pandemic. Now that things are going back to normal, people aren't able to take care of the animals.
"People have realized that they can't actually take care of these animals probably as they had been and so a lot of pets are ending up back in the shelters which I think is a factor in the overcrowding," Ettinger said.
SF Animal Care and Control volunteer and outreach coordinator Deb Campbell agrees that the pandemic has played a role in overcrowding at shelters.
"It's a constant game of trying to fit the pieces into the puzzle, and they don't always fit.  It's not just a Bay Area problem but it's a national problem," Campbell said.   
Since SF Animal Care and Control is an animal law enforcement agency, which has control officers who respond to animal emergencies. Even as three to five dogs getting adopted a week, Campbell said the problem lies in the influx of unadoptable dogs. 
"They're taking in animals from situations like cruelty [environments] [and] investigations. These animals come to us, and they stay with us indefinitely," Campbell said. 
The majority of their overcrowding issue is animals that go into SF Animal Care and Control are in other programs the shelter has that are non-adoptable or can't be sent to a rescue. 
Campbell said since any animals are taken in, there are certain animals that aren't adoptable due to some being older and sick, etc. Muttville is one of the many rescues that partner with shelters to receive such animals.
A cage-free dog rescue in SF, Muttville focuses on giving older dogs homes. Rescue partners give Muttville dog-tolerant dogs that can live in cage-free rescues.
"One of the challenges is that senior dogs tend to be more overlooked by adopters who walk into a shelter. If you think about it, a lot of folks who go to a regular local municipal shelter are probably looking for family dogs," Alice Ensor, Muttville's adoptions coordinator said. She added that adopters don't want to spend money on medical costs.
Reducing Overcrowding
In 2020, Oakland Animal Services started a fostering program for big dogs and has changed the way they do adoption. 
"Well, I would put it like this. Small dogs fly off the shelf. And as soon as we have small dogs available for adoption, they get adopted right away," Dunn said.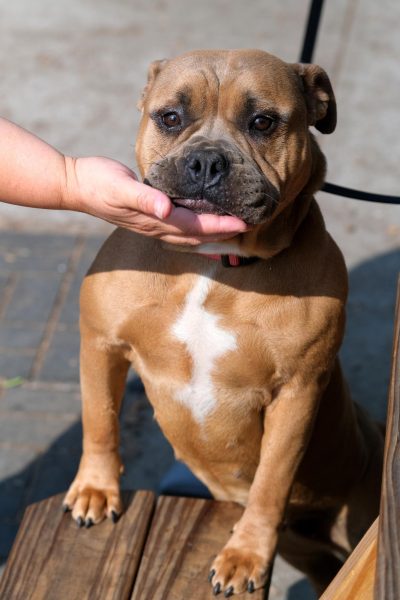 According to Dunn, in 2019, 17% of dogs that came into the shelter were euthanized. That figure dropped to 5% because of the foster program. 
Logan Daniels signed up for Oakland Animal Services's foster program recently after finding out about the dogs who were on the priority list. He and his partner were notified about being able to foster and were shown several dogs, including Angelo, a 2-year-old German Shepherd mix. Daniels described Angelo as a sweetheart who's young at heart and a companion.
"So I look at him, and I'm like 'Dude, how could you still be here, you're gorgeous, dude,'" Daniels said. "I'll always do whatever I can to help them because I'm definitely not for euthanizing anything ever." 
Another option to reduce overcrowding is for shelters to try to locate their family by scanning the dog for a microchip.
"When a dog comes in as a stray, they have a hold time that the shelter has to keep them while they try to locate an owner," Ensor said. "If the dog is chipped, it lengthens that time because they usually need to try and call and send a letter to the address on file for that microchip," Ensor said.
How Dogs are Impacted
For dogs, being in half-kennels can create a mixture of stress, confusion and sometimes a kennel cough: a highly contagious respiratory disease according to American Kennel Club – or as Dunn puts it, the canine equivalent of a human cold.
Despite the overwhelming number of reasons for overcrowded animal shelters, people like Dunn continue to work hard to find each and every animal a home they can live peacefully in.
"Unless there's some miracle and our intake starts going down, every week we will have dogs in that category because that is just our reality right now is that there are just far more dogs coming in than we can help," Dunn said. "It's terrifying, honestly to think 'What does that mean for the future?'"