From Popping Up to Settling Down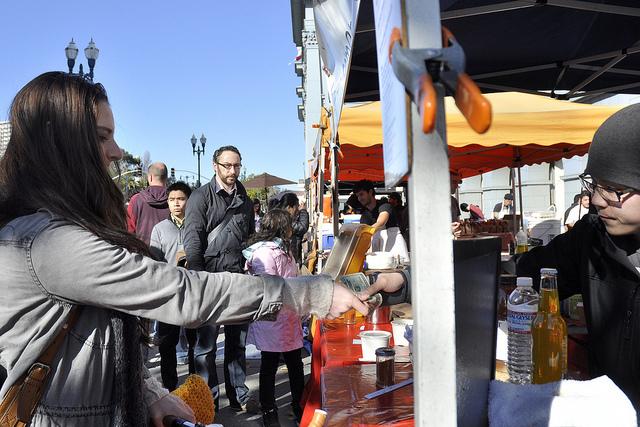 Words: Kenny Redublo
Photos: Godofredo Vasquez
The propane tanks hiss as they pump fuel into the burners. Steam comes out of every boiling pot as they cook the day's batch of broth. Bins of hand made noodles stack up over five bins high. Coolers filled to the top with brown eggs ready for poaching. The deep fryer heats up oil for breaded garlic chicken. Hapa Ramen is up and running outside of the Ferry Building. All of this equipment is set up underneath a canopy next to other vendors just like Hapa. All of this equipment is commonplace for any fully loaded restaurant. This isn't common. This is a pop-up.
A pop-up is a business that doesn't have its own location and uses temporary locations to serve meals. For a restaurant, the pop-up is a concept that creates a sense of rarity and spontaneity. The pop-up gives way for innovation in the food world by approaching the customer in unorthodox ways. The pop-up is a recent trend in San Francisco food culture, but as with all trends, its longevity is always in question. The process of gaining notoriety in the food world has changed with the implementation of social networks–pop-ups can be easily tracked and followed. What this brings to the culture is finding what's unique about the "then and now" experience of dining. What happens after "then and now" is up to the chef and the staff.
Richie Nakano looks cold. The beanie on his head and simple grey hoodie don't mask the fact that he sees the breath in front of him. Nakano is the owner of Hapa Ramen and they set up shop in front of the Ferry Building at the farmer's market every Tuesday and Thursday. The morning is cold, the perfect ramen weather. His crew of six, including Nakano, maintain the rush that comes in at around 11 A.M. The line bends and follows along the sidewalk. Hapa is the most popular booth at the market.
"The term 'pop-up' is used so loosely now," says Nakano.
Hapa does have a regular spot at the Ferry Plaza Farmer's Market and the Off the Grid food truck meetup, but it maintains that pop-up sensibility by showing up at restaurants like Wing Wings in lower Haight, and most recently at Hawker Fare in Oakland.
"A pop-up is a restaurant concept, but you're constantly changing your shit around," says Nakano. Hapa Ramen has been around for two and a half years, three in the spring. It was initially supposed to be a one time deal, but it evolved into a monthly, now weekly, spot.
Nakano says pop-ups give more leeway to experiment with dishes. They are unique experiences that play to a captive audience, not just the ones looking for sustenance, or the "diner type" according to Nakano. "Pop-ups are special experiences and we wanted to see what else we can do," says Nakano. A special dining experience isn't the only motivation to open a pop-up. It's a way to get a business started.
Pop-up Non-Fiction
One progression of a pop-up is a to transition into a brick and mortar restaurant. Sarah and Evan Rich started as chefs in different restaurants and then started Chef's Night Off, a pop-up that hosted dinners in different restaurants' kitchens. The pop-ups started in 2011 and after practicing their specialty dishes, they secured their own space in February 2012. Rich Table opened in mid July and has become one of the hottest restaurants in San Francisco.
One of the first pop-up successes is Mission Chinese Food. Launched by Anthony Myint and Danny Bowien on July 5, 2012, Mission Chinese Food used the kitchen out of Lung Shan Restaurant in the Mission. Offering a Sichuan spin on traditional Chinese food without the MSG, the pop-up gained its notoriety through various food blogs and word of mouth. The pop-up's big break came in when Bowien and Mission Chinese Food was featured on the Travel Channel's The Layover, hosted by famed chef and writer Anthony Bourdain. Since then, Mission Chinese Food has made top ten lists including GQ Magazine's Best New Restaurants of 2011, and Bowien has become the face of the restaurant, appearing on the Martha Stewart Show and modeling for the clothing line UNIQLO. The notoriety also gave Bowien enough motivation to open a Mission Chinese Food in New York.
Mission Chinese Food is a rare case of pop-up success. It has spawned that interest in starting pop-ups but that can be a gamble, according to Nakano.
"Since there are so many pop-ups, some people get the impression that they can do it too when their abilities aren't there," says Nakano. "I don't want amateurs getting people sick."
A Different Way to Pop
The end point for a pop-up is usually a brick and mortar restaurant or a food truck. The kitchen at Dear Mom had a different pathway.
Before it was the Dear Mom kitchen, it was Fogcutter, a food truck opened up by Carolina Hummer and Guillermo Perez in July 2011. The two worked in food trucks before, one for Hummer and two for Perez, so they knew the workings of the culture. Perez had heard of a new bar opening up with a full kitchen and they were infatuated.
"We've been stalking Dear Mom for a long time even before they opened," say Hummer. "We want to use that kitchen."
They were invited to do brunch pop-ups when Dear Mom opened up. They were already serving brunch out of the truck so they did whatever they could to get into that kitchen. Fogcutter initially turned into a pop-up to promote the truck, since they were both still in operation. They realized the food in the truck wasn't selling so they decided to scrap the truck. The truck didn't help alleviate any stress.
"With the truck, you had the maintenance stresses on top of running a restaurant stresses," says Hummer. "Even though it was a great experience, I wouldn't want a truck again."
So Fogcutter was a pop-up, but after having its residency in Dear Mom's kitchen, they are now the primary staff. They are the Dear Mom kitchen.
Pop-Up Don't Stop
As fast as pop-ups come and go, the food culture and trends progress in different directions.
Nakano says pop-ups are the trend as of now, but they a need cusp. "I would want to see pop-ups slowing down. It's hard to see what's actually special when there are tons of pop-ups starting," says Nakano.
He says next year will see more of a transition to pop-ups and less to brick and mortar restaurants. He doesn't see pop-ups as the future though. "There's some other model that we haven't seen yet," says Nakano.
Hummer says the demand for brick and mortar restaurants won't change.
"People want to eat and that's never gonna change," says Hummer.
"The culture will always be inventive and interesting since San Francisco provides access to fresh produce and ingredients."
She does think that there's a movement of underground dinners, like Hungry Bear and Snag Dining, that may be the next step in San Francisco food culture.
"It'll keep getting weirder, inventive, and stay fresh for a long time," says Hummer.
When the burners fade, the food is tapped. Foodies leave full on freshly made food served with the sense of it being the last of its kind. With a tweet or a like or a post, the dish won't be alone in its rarity. The foodies will be waiting and watching with hungry eyes.