Is Apple just phoning it in?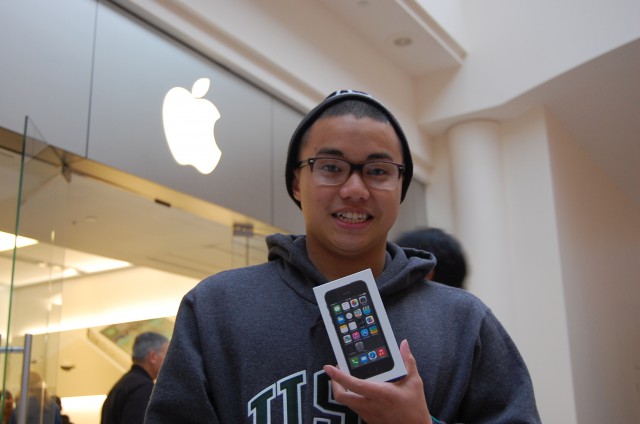 The newest iPhones could be the end of the beginning or the beginning of the end.
It's 12:30 a.m. at night outside of Stonestown Galleria. There's a line of people lined up against the wall bundled in warm jackets and blankets. It's the coldest part of town, and it feels like it. Josh Rufino is first in line. He's been waiting since 9:45 for the new iPhone. 9:45 a.m."I'm getting it because I have an Android right now and it's really old, so why not get an upgrade?" says Rufino. He wants the golden iPhone. It's what most of the people in line want. Others describe it as "elegant" and "premium." There's only so many available from the start, and right now they're selling like hotcakes. "I'm just looking for a newer phone," says Rufino.
The newest iteration of iPhones was released last month, the 5s has a personalized fingerprint scanner and boasts twice the speed in shiny metallic coating, while the 5c is available in a plethora of plastic pastels, a sign many have taken as Apple's desire to break into the burgeoning smartphone foreign market that Android already has a healthy grasp on. That means one of two things. These phones signify Apple climbing back to the top of the technologic food chain, or telegraph the fall of a mighty tech giant.
It's difficult to imagine Apple falling out of God's Grace anytime soon. After all, it is the biggest name in the tech industry. However, it was less than two decades ago that they were filing for bankruptcy and needed a bailout… from Microsoft.
However, under the leadership of Steve Jobs, Apple was able to turn itself around, beginning with the release of the iMac, the first i. These computers were hip and new, instead of offering a dull beige box to type letters into, Apple offered a line of multi-colored computers to alleviate the monotony brought upon by Bill Gates and Microsoft.
Now, in 2013, with the latest line of iPhones, instead of offering a dull black box to type letters into, Apple offers a line of multi-colored smartphones to alleviate the monotony brought upon by Steve Jobs and Macintosh.
It's possible they've hit a dead end.
Recently, Apple has been likened to Polaroid by Slate's Christopher Bonanos. Polaroid was on top of the world way back when everyone relied on film and physical photographs as a means of capturing everyday life, but has fallen on hard times in the world of Instagram and digital photography.
"The founder of a tech company, departing the scene, hands off to his longtime deputy. Inside and outside the company, observers are relieved," begins Bonanos in his article. "The new boss is not going to screw the place up; he gets the corporate culture. He's also not as personally difficult and mercurial as his predecessor—an aura of fire doesn't surround him. And, in fact, for the first couple of years, the company runs like clockwork: It's still making a fortune, with fewer screeching stops to retool a product based on executive whim. Yet, as time goes on, those same observers start to wonder: What is the next big thing for this company, and why don't we see it yet? The company has slipped into the habit of refining what it does, vamping on established products and markets and expanding them—refinishing the furniture when it needs to be building a new wing."
Alexander the Great built an empire faster and wider than anyone before him, it spanned from the Mediterranean to India in ten years. When he died, it didn't last one.
Remember those Mac/PC commercials that were so popular five years ago? The hip young Mac and the staunch old PC. The very center of those commercials was that Microsoft was the status quo and that Apple offers uniqueness away from the top brand, an image Apple's been cultivating since the '80s.
Now, tablet and smartphone commercials are the ones poking fun at the bloated Apple. The voice of Siri, or something sonically similar, stands the iPad next to a Windows tablet and takes potshots at the status quo brought upon by the Applecalypse.
There is a line in the Dark Knight. "You either die a hero or you live long enough to see yourself become the villain." People root for the underdog but unless you're the front dog leading the sled, the view never changes. It's the dog pack paradox. Empires need to expand in order to survive. A stalled empire is a crumbling empire, and it's difficult to innovate and stay on top when all eyes are on you and a giant fruit-shaped target is painted on your back.
Therein lies the problem: Apple leads the pack with their top innovator gone. Last time Steve Jobs was gone from Apple, it was run into the ground. The company that built innovations like iTunes, iPods, iPhones and iPads has been reduced to making their products smaller and shinier. On October 12, 2013, The Motley Fool, a highly regarded financial service news and analysis reported that hedge-fund legend, Julian Robertson, has dumped his Apple shares—the very stock for which he was once one the most prominent and enthusiastic proponents.
His reasons echoed other experts who hypothesize that Jobs built a jet only he could pilot, and without him running the engines, it's only a matter of time until the gliding aircraft makes its crash landing.
It's not just gadgeteering geniuses that are left feeling unsettled by Apple's place in the market right now. Investors big and small anxiously check the value of their Apple stock as it fluctuates at a level well beneath its peak. Shares now trade at about $150 less than they did exactly a year ago, and more that $200 less –- nearly a 30% drop — than two years ago, just before Jobs died.
However, in spite of all that, Microsoft's newly announced Surface 2 tablet was met with a thunderous yawn. The only thing keeping iPads from being a generic name for tablets is that the Kindle was out first, and no one stands out in line all night to get into the Android store.
On top of that, Apple reported selling a record nine million new iPhone 5s and iPhone 5c models during the first weekend, topping Wall Street expectations and sending the company's shares up nearly 5%. The regular iPhone 5 only sold five million in it's initial weekend. In addition, the newly released iOS 7 was downloaded by a third of all iPhone users and a quarter of all iPad users within its first 24 hours. Aside from all of the in-house accomplishments, Apple also recently dethroned Coca-Cola as the top brand in the world, ending the drink giant's thirteen-year run as such, and continues to hold more cash in the bank than any other company in history, twice as much as Chevron or Google.
However, one thing most agree on is that CEO Tim Cook is still gliding on the momentum left-over from Jobs, and unless he and his staff can get the jet turbines spinning again, it will be long way down. After all, the bigger they are, the harder they fall. No one is completely sure if Apple is a ripe and tempting pick, or rotten to the core. But it's still too early to tell if these new iPhones will be another scoop of explosive dust in the powder keg or another block of sandstone in the mighty pyramid.
It's 8:30 a.m. in the morning inside of Stonestown Galleria. There's a line of people lined up against the Apple store bundled in warm jackets and blankets. They've been waiting in coldest part of town, and it looks like it. Josh Rufino strolls out of the Apple store holding his unopened box."I sat there waiting, it's hard to sleep, it's freezing, but I got my phone." says Rufino. He got his golden iPhone. Others in the store are trying to pick up as many phones as they can, some likely to be sold online. There's only so many available from the start right now, and they're selling like hotcakes. "I'm trying to think of the word, I can't think of it right now, I'm so tired, I've been up for 23 hours, just about," mumbles Rufino. He finds the word. "It's satisfying. I finally got my phone, now I can go home and sleep."
Leave a Comment