I remember that evening my dad woke me up to take me to the movies. I was eight-years-old and it was way past my bedtime. The theater was busy, as hundreds of moviegoers poured in at 11:30 P.M. on a Thursday. Star Wars: The Phantom Menace came out at midnight. The magic of a midnight release showing was new to me then, but throughout junior high and high school it became an almost religious fixture in my life. Blurry eyes and beaming smiles filled every auditorium, because the silver screen deserved our attention. The theater held my imagination hostage and I was more than happy with my Stockholm syndrome. These days I struggle to remember the last movie I saw in theaters.
The night out at the movies is the cornerstone for Americans everywhere. The first movie theater in history was the Nickelodeon, built in Pittsburgh, Penn in June 19, 1905. The weekend event, the weekday matinee, the classic first date, the movie theater experience is one that most can't imagine a world without. In 2016, theaters hosted 1.3 million moviegoers, outnumbering both sporting events and theme park attendees. Nonetheless, movie theaters seem to be facing an existential threat.
While silver screen isn't going anywhere anytime soon, the way the cinema operates is taking a beating—and recent box office numbers show a disheartening trend for zealots of the theatrical ceremony.
Marlene Virelas, a former senior manager at Century at Pacific Commons in Fremont, California, offers some insight on how these bombs are handled at the the box office.
"If we knew movies were going to flop, or after they had bad premiere weekends the amount of showings were scaled down," Virelas remembers.
"There's a constant pressure on a movie theater to turn a profit because most if not all the sales from the box office goes to the studios, theaters really make their money from concession stand sales."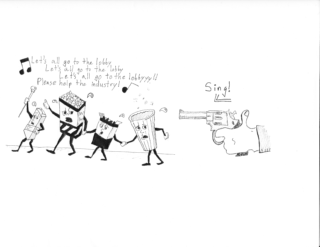 ARTIST: DYLAN PEMBERTON
The sheer uptick in the amount of box office failures—commonly referred to as "bombs"—is staggering compared to previous years. In 2016 alone, Alice Through the Looking Glass, Allied, 2016's Ben-Hur, The BFG, Deepwater Horizon, The Finest Hours, Ghostbusters, Gods of Egypt, The Great Wall, The Huntsman: Winter's War, Live by Night, Monster Trucks, and Teenage Mutant Ninja Turtles: Out of the Shadows all boasted losses of over $60 million.
Movies from 2017 aren't spared either. Ghost in the Shell, Power Rangers, and King Arthur: Legend of the Sword are already critically declared bombs, with the later suffering a loss of over $150 million according to Box Office Mojo.
For reference, 2015 had ten box office flops under its belt, 2014 only had one, and 2013 only had to claim five to its name.
American University film graduate Chelsey Cartwright offers a unique perspective. As a member of the millennial age group, she is part of the disappearing moviegoer, and yet as a film major she still tries to make it out to the movies as often as possible.
"Convenience and cost wise, it's so easy to justify not going to the movies because I can watch a hundred things on Netflix or Amazon or Hulu. I no longer go to the movies if I'm bored," points out Cartwright.
"These days my trips to the theater are often to pay homage to a film that has plowed its way through the many stages of film-making and is being displayed gloriously on the big screen."
It is obvious that there is a problem with Hollywood that is keeping moviegoers from putting their butts in seats. When you dig a little deeper though, the butts that aren't seated seem to belong to solely the ever elusive millennials. According to the Motion Picture Association of America, the 25-39-year-old group makes up the majority of film attendees with 22 percent, while the other 88 percent is spread among the other age demographics. The theater's main demographic is steadily de-butting movie seats.
"I see videos everyday on my news-feed," says Cartwright.
"I consume news and gifs and interviews and all things social media. I'm inundated with visual media, so off the bat the idea of a major motion picture isn't as novel as it once felt."
These days I struggle to remember the last movie I saw in theaters.
So where is Hollywood getting its money? The answer seems to rest in overall movie ticket prices. Complaining about rising cost of ticket prices seems have always been a constant, but acclaimed director Steven Spielberg predicted a breaking point back in 2013.
"You're gonna have to pay twenty-five dollars for the next Iron Man, you're probably only going to have to pay seven dollars to see Lincoln," Spielberg told The Hollywood Reporter at the time.
"There's going to be an implosion where three or four or maybe even a half-dozen mega-budget movies are going to go crashing into the ground, and that's going to change the paradigm."
It's only been four years, but Spielberg's words are quickly changing from prophecy into problems. Many movie studios have attempted to avoid the coming "implosion" by relying on big budget blockbusters. In the infamous email hacks on SONY, studio co-chair Amy Pascal emailed a note to her chief lieutenant Doug Belgrad. Assessing Sony's lineup for 2015, she wrote, in all caps, "THERE ARE TOO MANY DRAMAS/NOT ENOUGH TENTPOLES/NO OBVIOUS BREAKOUT HITS."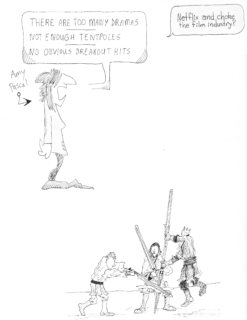 ARTIST: DYLAN PEMBERTON
These "tent-pole" movies are still massive risks. If a studio puts all their eggs into one basket and fails to draw in that millennial 25-38-year-old group, they're stuck with an unfortunately ugly omelet. The less obvious casualty of this method of movie-making though is the makers themselves.
Hollywood directors are becoming a dime a dozen. Blockbuster director of Jurassic Park, Colin Trevorrow was set to direct the still untitled ninth Star Wars film. Just this past month it was announced Trevorrow was stepping down as director of the project.
"Colin has been a wonderful collaborator throughout the development process but we have all come to the conclusion that our visions for the project differ," Disney said in a statement.
"We wish Colin the best and will be sharing more information about the film soon."
Since then, episode nine of Star Wars called back Star Wars VII: The Force Awakens visionary J.J. Abrams. It seems that franchises reign supreme in Hollywood right now, and no director's vision can supersede a company's need for profit assurance.
Famed director Christopher Nolan spoke with the Los Angeles Times recently about this pressure. When asked if he would ever consider doing another super-hero or "tent-pole" film, he made sure to weigh both options.
"The responsibility that comes with a large film at this stage of things is always very daunting. But having made tiny films and dealt with the flip side of that, which is just trying to get anyone to see your film, that's awful in its own way, admitted Nolan.
"Any independent filmmaker can tell you, going to a festival, hoping a distributor is going to like your film and put you on ten screens somewhere — that's very, very tough and very demoralizing in its own way."
Echoing Chelsey Cartwright's words on the movie novelty, Nolan also took time to unpack just what studios need to be looking for with breakout hits.
"What's interesting about that whole paradigm is, you can't fault the studios for looking to likely hits, for looking for areas where people seem to want more of something. But Hollywood and the studios have also always understood that novelty, freshness, is one of the magical ingredients of movies. And I don't think the studios ever want to risk losing that completely," says Nolan.
Still, the future of Hollywood may be found in the voices of those who criticize it. Cartwright has studied were movies are going with both pencil and popcorn. She thinks there's a bright future if the box office can find it.
"The film industry is finally catching up in terms of diversity, like women in major leadership roles and expansion beyond white heterosexual plots. But it's a slow going process," admits Cartwright.
"If it wants to hold on to audiences, the movies will have to speed up. We're smarter now. Twitter educates us on feminism, Facebook opens our eyes to police brutality, Reddit examines government corruption. Everyday people are coming to expect more out of the media they consume. People loved Wonder Woman. That's a pretty solid example of people wanting a strong atypical heroine and a subsequent box-office smash. People are ready to push the limits."
The issues that plague the box office are many, as are studio's' attempts to find a solution. The interesting piece of all this is its moviegoers – people who get to decide what technique works. Whatever movies people choose to actually go see, those are the types of strategies studios will continue to use. It is not impossible to imagine that studios just don't quite understand what audiences want in these changing times, and new kind of relationship is still possible. Something that benefits viewers, producers and creators may be out there. The numbers don't lie though, and Hollywood needs to find the answer soon.