Women in Film
In an industry often dominated by their male counterparts, many Bay Area women are paving a path for themselves via their passion for filmmaking.
A 2018 study by San Diego State University found that women only made up 20% of all writers, directors and producers of the year's top 250 domestic grossing films, and only make up around 30% of the film and media industry's directors, writers and producers. This was an increase across the board from the year before.
"The film community in the Bay area is really small so it is very easy to vouch for people and meet people you want to work with," director Maria Mealla said. "And I think that because it's not like we don't have big Hollywood industry here, people are more invested in actually telling stories and the art of it. They are more willing to […] work on a project for the love of the story and not so much the business."
Mealla grew up in La Paz, Bolivia, where she dreamed of working in theater arts. She moved to Austin, Texas, to study acting and directing, then to San Francisco after graduating. She ended up falling in love with filmmaking when she found a group called Scary Cow Productions, an independent film production cooperative in the Castro neighborhood.
Check out some of Xpress Magazine's audio interview with Mealla below:

"You have to claim your space and fall in love with your story," Mealla said. "Fall in love with your characters. You know how it is easier to advocate for a friend then it is for yourself. My advice is to see your story that way. Treat your story with the respect that you would expect someone to treat your best friend. Know your characters to that extent and know why it is worth telling their story."
Veronica Moscoso is a filmmaker and author. She grew up in Ecuador where she first found her love for not only film but storytelling. When she was trying to figure out what to study in college, she chose UC Berkeley with an emphasis in documentary filmmaking.
"I think the need of telling stories and when I find a story that is important or interesting and I am like 'oh wow. This is something I would love to tell,'" said Moscoso.
According to the U.S. Department of Labor 70% of mothers with children under 18 are in the workforce and of 75% work full time. Being a mother in film creates its own set of challenges that no one can understand like other mothers in film can.
Moscoso is also the San Francisco chapter leader of Moms-in-Film, a nonprofit organization that brings mothers in the industry together to be able to relate on another level that filmmakers that don't have children can't.
"I started the San Francisco chapter because as a mother it is more difficult," said Moscoso. "There is a lot of work you have to do for free and you have to use a lot of your free time for your projects. And when you are a mother, you don't have that free time and you need the money."
Natasha Sharapova is a grad student in the cinema program at San Francisco State University. She grew up in Russia and got involved with activism against corruption within the Russian government. She also noticed that there was not a lot of mainstream media coverage of what was happening. While participating in a grassroots movement she began to film and soon became interested in documentary filmmaking.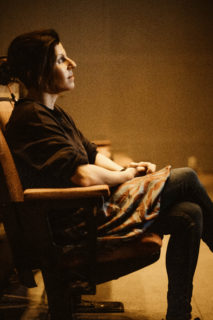 "I think one of the benefits of [SFSU cinema program] is not necessarily the skills you learn but the community that you get," Sharavopa said. "You can rely on [them] if you are feeling down."
Whether it's finding or creating a group, it's important to stay connected with people that understand and support your passion within the film community.