Mission Collective Empowers Eaters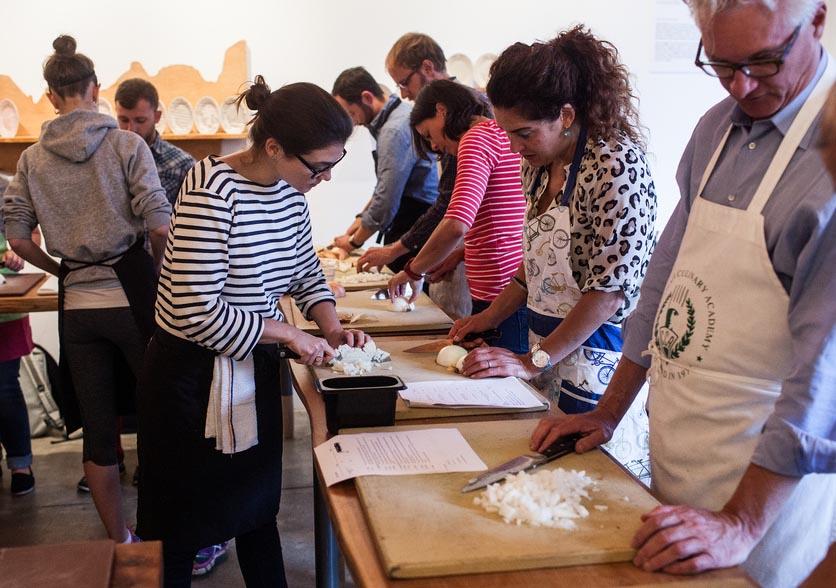 Written by Nicole Dobarro
Photography by Mike Hendrickson

Some heroes wear shiny badges or capes. Some heroes can be found on television or on cereal boxes. Some are in plain sight, while others require a little squinting to find. These heroes are the ones that work quietly away in hidden offices. They guard the nooks of our neighborhoods that are too often forgotten. And sometimes, they even eat kale.
Sarah Nelson, Emily Geis and Stephanie Monterroza are a part of this subgroup of heroes. Their superpower? Food. Through 18 Reasons, a nonprofit community food center, and Cooking Matters classes, free cooking classes, these ambitious women have gone out into their communities with a bold goal: to reduce poverty and starvation.
Nelson, Executive Director of 18 Reasons, unexpectedly found herself working with food after landing a job with a farmers market association. After returning from teaching yoga in Paris, Nelson says, "I found the job on Craigslist, got interviewed the day after I arrived and started the next week." Later down the road she began her venture to help San Franciscans ditch California burritos and eat healthier. In 2011 she started Three Squares, a small nonprofit providing free cooking classes for adults and children from less privileged backgrounds, a.k.a. Cooking Matters classes. Cooking Matters classes are entirely run by volunteers and are available at no cost to those who participate. The program reached over 2,000 students all over the Bay Area. That's pretty impressive.
Then there's 18 Reasons. The community food and art space which opened in 2007 is subtly located on 18th and Guerrero in the Mission District. It can easily be missed, especially if a cone of Bi-Rite's soft serve from next door is involved. 18 Reasons doesn't get too upset though, because the center is owned by Bi-Rite's Sam Mogannam. So they're part of the family. Before Nelson and the Cooking Matters program entered the picture, 18 Reasons "had payed classes, dinners, workshops, movie nights and the 18th Hour Cafe," says Nelson.
In January 2013, Mogannam wanted to bring Nelson onto the 18 Reasons team as the executive director and Nelson saw this as a great opportunity. "I proposed the merge," says Nelson. Nelson merged her non-profit, Three Squares, with Mogannam's 18 Reasons. And ta-dah! 18 Reasons as we know it today was born. The modest room with open windows, communal tables and charming bookcases continues to hosts classes, special dinners and movie nights, while incorporating the Cooking Matters program. Though the merge marked the end of Three Squares, free Cooking Matters classes continues to kick-butt as part of the Bi-Rite Family of Businesses.
Geis, the program manager of Cooking Matters, explains that the goal is simple. "The goal is to empower eaters, cooks and gardeners of all ages and from all backgrounds," says Geis. Though the goal is simple, the outcomes they hope for are difficult to pinpoint because of the multiple problems that need fixing.
Nelson, Geis and Monterroza hope to see a decrease in poverty, an increase in food education and awareness, and ultimately a drastic change in America's food system. Giant food corporations need to be voted off the island. Nelson admits that "we're not going to save the world [from poverty] because we live in a capitalist society," but she hopes to influence the community. Today, the bond between corporations and consumers is unbreakable. This relationship needs to return to being between people and real food.
That's where education comes in, particularly food education. Knowing where food comes from and how to prepare it allows individuals to immediately improve their quality of life. Nelson, Geis and Monterroza spend most of their time teaching these classes or figuring out who else they need to reach. They reach out to community centers that have existing relationships within their community, day care centers or classes for mothers are examples. Sometimes they have to get creative. "We go everywhere. We go into all sorts of community centers. We've even gone into people's apartments," says Monterroza, the Cooking Matters program assistant.
Once Nelson and her team find a connection within a particular community they apply the Promotora model to finding mentors and teachers. The model works by approaching volunteers who are already prominent leaders in a certain community, then train them to qualify to teach the Cooking Matters curriculum. Sometimes they're chefs, nutritionists, caterers or just really passionate home cooks. Volunteers also come from everywhere else regardless if they have professional experience in food. Monterroza says, "A lot of the time they are just house moms and school teachers."
The classes last from five to six weeks and take place for two to four hours every week. The classes aim to support families that want to change their diets and improve their health. Nelson, Geis and Monterroza provide groceries for everyone to cook in the class and another portion for them to take home and cook later. The groceries they provide also set an example for what their students should be buying. "We really push them to eat their fruits and vegetables. And to buy in season," says Geis.
Students also leave every class with take-home recipes. Geis said they have certain guidelines they stick to that have actually got people to go home and cook. They keep the recipes low in cost, fast and simple. "We also make sure it's something that tastes really good," says Geis. "We want to make sure they're recipes people will enjoy, instead of something they would never eat at home," says Geis.
The teachers aim to cook what their students say they either enjoy eating or usually eat. Which is smart. It doesn't make sense to provide families with ingredients and recipes they would never choose to eat. Monterroza explains that they help modify a family recipe by analyzing its nutritional value and determine if it can be made healthier by reducing fats or adding whole grains. "We want to give people realistic recipes they can try at home. We want that mom, who works full time, to feel like she can cook a quick meal after a long day," says Geis.
That's exactly what is happening. Families who attend these classes love the recipes they take with them and continue to share the joy of cooking with the rest of their community. "We have moms come back to us and tell us how much their family loves their new recipes," says Monterroza. Not only do these classes teach their students how to cook, they teach how to make good choices and how to know the quality of food they provide their families. It's understood that not everyone can afford organic produce. People on salaries can't even afford to buy organic. "We do talk about organic food, but we don't expect them to fit it into their budget," says Geis.
Through Cooking Matters, teachers also prioritize the small things like the art of meal planning, budgeting and even how to read food labels. A class in the curriculum is designed to help the families shop smart in the grocery store they frequent often. A lot of time Cooking Matters instructors and families visit corner stores because that's the closest or most convenient place to buy food. The teachers aim to work with the ingredients certain stores have and encourage families to demand healthier products they might want. "We teach them to be advocates for themselves," says Geis. Everyone deserves to eat well and deserves to be provided with food that is good for them.
Okay, but why food and why now? How will food save the world? Geis simply says, "Eating is universal, it brings everyone together. Everyone has to eat." Monterroza and Geis explain the problem as being interconnected to what Americans are eating and how it affects not only their health, but their potential to succeed and positively affect future generations. A child who doesn't get enough to eat is less likely to perform well in school which could hinder the probability of even being able to graduate high school, nonetheless graduate with a professional degree. According to the No Kid Hungry: Share Our Strength campaign, an average increase of 17.5 percent in standardized math scores only occurs in students who regularly start the day with a healthy breakfast.
Low-income families can't always access healthy food, and as a result there has been an appalling increase in health problems. Why? This is due to such families thinking they can only afford cheap, fast food. According to the same study by the No Kid Hungry campaign, 85 percent of low-income families want to make healthy meals for their kids, but only 50 percent are financially capable of doing so.
Unfortunately, giant food corporations are the only ones still laughing. Childhood obesity has become so common, not only in California but across the country, that the numbers are no longer surprising. But hopefully you already know that. Monterroza explained that the ridiculous increase of Type 2 Diabetes has caused a change in name. "We've seen such high rates of type two diabetes, which used to be called adult diabetes, that now it can't be called that because young children have it." In a 2004 study conducted by California Center for Public Health Advocacy, researchers found that children diagnosed with Type 2 diabetes accounts for almost 50% of new diabetes cases in some communities. They also found that there are more than 12,000 adolescent cases of diabetes in California alone. Monterroza says, "It's been ignored for such a long time. And now that we've reached such an all time high, people have realized we need to do something."
Not only are community volunteers reaching out, but families and individuals are voicing their needs. Nelson recalls how one Cooking Matters instructor got involved. "A woman, Alejandra, spoke to teachers in training and told them why she got involved. She was very overweight and had other serious health problems," says Nelson. Alejandra's wake-up call was when she had to miss her daughter's 8th-grade graduation. She ended up joining the six-week Cooking Matters program as an instructor in hopes of leading a better lifestyle. Alejandra learned to be healthier and "lost 75 pounds after joining the program," says Nelson.
Nelson, Geis and Monterroza hope to "teach people that eating is healthy and that it can be quick, inexpensive and delicious," says Nelson. Families too often think that eating healthy can't be any of these things, or are afraid of the reaction their family members will have to making a healthy change. Nelson says, "We want to give them more confidence to change their lives."
While the 18 Reasons team has improved the lives of others, their experiences have also taught them a lot about themselves. Monterroza says ever since she started volunteering, then later started working for the Cooking Matters program, she's been brought much closer to her community. These women have also started living healthier lives. "I've come to live what I preach," says Geis. Nelson says she's come to see things in a new perspective when it comes to access to healthy foods for herself and others. "I've discovered a lot about myself and appreciate the little things," says Nelson.
This team is on the right track. It's unfortunate that these communities lack the resources to be able to provide their families with healthy food, but are fortunate to the have the support of 18 Reasons. Could they change the reality of how our local community eats? Hopefully, but they can't do it alone. Being a part of this community requires us to raise awareness about preventable issues, even if it's just starting with yourself.
18 Ways to Eat Smarter as a Student by Sarah, Emily and Stephanie:
1. Know what food options are around you
2. Check if you qualify for SNAP from Cal Fresh! You can even use EBT cards at
farmers markets
3. Cook at home
4. Plan your meals ahead of time
5. Eat breakfast everyday
6. Drink lots of water
7. Always carry snacks
8. Eat 100% whole grains
9. Know your healthy fats
10. Eat your fruits and veggies
11. Buy local!
12. Exercise to reduce stress, since "there's a lot of that in college"
13. Get lots of sleep! "but don't miss your classes"
14. Figure out how to sneak healthy ingredients into your favorite foods, like smoothies
15. BE ADVENTUROUS AND TRY NEW FOODS
16. Start making the change with baby steps
17. Reward yourself!
18. Skip going to restaurants with friends and have a potluck!
View Comments (1)