Hump Day Music: 4 Songs To Get You Through The Week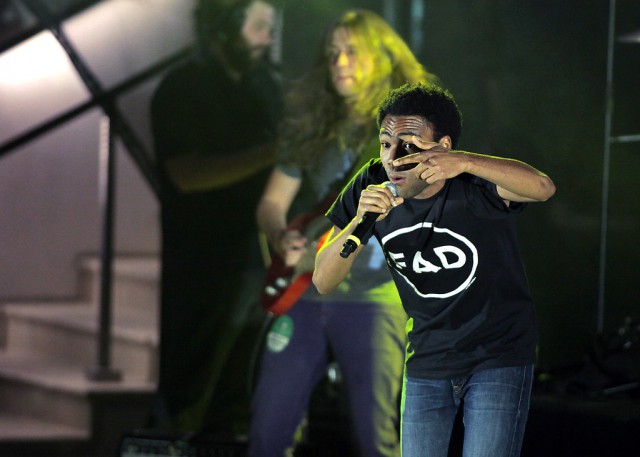 Written by Macy Williams, Jake Montero, Maggie Ortin and Matthew Reyes
It's the middle of the week, and the weekend is just past the figurative horizon. Here are some tunes the Xpress Magazine staff picked to get you through work, school and/or studying. Cheers.
Lady Gaga ft. R. Kelly
"Do What U Want"
Lady Gaga dropped her latest track off her album ARTPOP, and it's a collaboration created in heaven. Mixing the queen of pop's smoky growl with R. Kelly's R&B sound, "Do What U Want" will undoubtedly be the next song blasting through the speakers of SF's nightclubs. The track mixes electronic sounds with an eighties vibe, which could easily be the soundtrack for an episode of Miami Vice. Gaga will be releasing a song every week until her album hits the shelves on November 11, so get ready to interpretive-Gaga dance your ass off.
Childish Gambino
"3005"
In between recording episodes of Community, progressing his comedic career, and pouring his feelings over Instagram, Donald Glover still finds time to produce and record ear-catching hip hop tracks under the pseudonym, Childish Gambino. His new track, "3005", starts of with light synth chord progression and Gambino singing an unforgettable hook, "I'll be right by your side, till 3005." After one run through, listeners won't be about to get that line out of their mind. Soon after, Gambino kicks in with his witty and subtle rap approach, minus the aggressiveness that's featured in his earlier albums. "3005" features how Gambino can switch seamlessly between smooth R&B vocals and rap exhibitionist, a skill that most artists try but don't succeed. Childish Gambino's latest cd will drop by the end of the year in December.
Haim
"The Wire"
Stylistically, Haim's "The Wire" has no clarification, other than to say it sounds like an amalgamation of the last 30 years of pop music. Equal parts Jackson Browne and Destiny's Child, Haim manage to encompass nearly every musical sensibility while also writing songs that are startlingly straightforward. "The Wire's" driving guitar riff combined with the sisters stuttering yet sexy vocals, leaving listeners with a desire to simultaneously grit their teeth and frolic in the park.
Down Dirty ShakE
"Sangria"
The Down Dirty ShakE is a modern blues psychedelic band whose songs graciously seam two polar opposite attributes: rhythm and chaos. A resident band at The Milk Bar in upper Haight, Down Dirty ShakE creates a fast blues feel with heavy bass lines and classic rock drums accompanied by its lead singer's long drawn out, sometimes painful, notes, which is comparable to Jim Morrison. Keep rockin boys, and we'll see ya at the Milk Bar soon.