Comedy 101
Those who can, do. Those who cannot, take a class.
"You think I wanna be here? I'd rather be sleeping or watching pre-season hockey!"
This is Kurtis Matthews's first example of a joke. Matthews, a tall man who fills out his blue button up shirt, stands at the front of various rows of plastic chairs filled with aspiring comedians, non-profit workers, techies, and hobbyists. Matthews takes to the mic, though his voice is fairly loud without it–the projection of a veteran performer.
The makeshift classroom for San Francisco Comedy College is the front space of the Manilatown community center at 868 Kearny Street in San Francisco. Only a swatch of fabric separates the comically-challenged from an assortment of gongs and Filipino instruments. The basement, apparently, was also a former comedy club that went under once the boobs and butts came out at topless and bottomless clubs up the street on Broadway. That's the excuse, anyway.
Well, it isn't much of a class, but it's free. This intro session is a Q&A-style teaser to get the comedy students ready for the semester, but Matthews makes sure to have fun with it. He chides his potential students, he self-deprecates, he nearly insults. So, what's his secret?
"If you can stand up and not poo yourself, you win," he says.
The laughter he gets is almost guaranteed. Everyone likes poop jokes.
Coincidentally, Matthews's comedy career began in the classroom, as the class clown. Matthews insists that he wasn't the guy with looks, with money, or with athleticism, so he decided to be "a smartass." He ditched his college track for pre-law and plunged into stand-up comedy in 1980s Los Angeles, when the getting was good. Once the getting got bad, he found other gigs, including a stint on Celebrity Rehab that resulted in Rod Stewart's son crying (Matthews won't dish on the details). Matthews has been on the road, on television, written jokes for CEOs, and does one-on-one Skype sessions outside of the courses. He has faith in even the most humorously void.
"I have yet to meet a person who's not funny. Some people don't want to be funny," to which he amends, "some people don't need to be."
Humor was something Matthews says he purposefully developed to find acceptance from his peers. And he's not driving for Lyft or waiting tables, so one could argue that it has worked out. He has seen the likes of comic Hasan Minhaj, graduate from his course, but he insists he sees the same potential in "creepy people, normal people, drug addicts…a priest, a prostitute, CEOs, a reverend."
Matthews believes that humor comes from a person's point of view, personal experience, and lots of practice. While his perspective draws from holistic research rather than studies and trials, there is in fact a science behind humor as a survival and social skill.
In her paper, "The Relationship of Black Racial Identity and Aggressive Humor," Tina Reifsteck of St. Joseph's College asserts that "humor can help an individual to confront challenges, deal with stress, and remain a positive outlook on life during difficult life situations . . . It furthermore can enhance communication, ease conflicts, and convey solidarity in interpersonal encounters."
So, why would anyone need to take a class on it?
"You can learn to be a surgeon without going to medical school, but people may die," Matthews says.
Fair enough. No matter whether the class "works," Matthews continuously keeps his attendance up. Clearly, there are people who want to go back to school.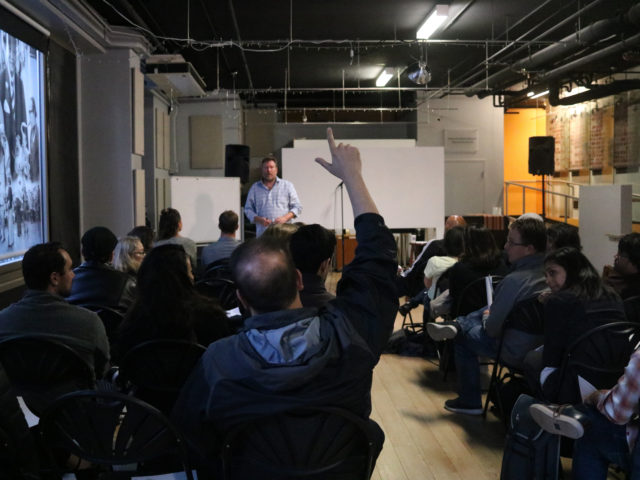 Aaron Mandel paid for the course before the intro class even began. He works in the nonprofit world and sees comedy as a hobby, but one he wants to do well. Mandel's done some improv, but stand-up presents a unique challenge.
"I just want to learn how to do stand up, the craft . . . use new parts of my brain," Mandel said.
Leigh Anne Jasheway would agree with Matthews's teaching method, likely because she's in a similar line of work, bestowing the knowledge of comedy onto the masses in Oregon. Jasheway's comedic identity was born out of her divorce, as a "survival mechanism" that she began manifesting at age thirty-two.
After years of an ironically stressful job counseling people on their eating and exercise habits, Leigh Anne made a pivotal choice: she would quit her job and give herself a year to make it as a comedian. And so she did.
Leigh Anne, who is now sixty-two, pays the bills with humorous motivational speaking. She has taught community college courses, written a decade-long humor column, and conducted academic comedy research at the University of Oregon, Eugene. She still performs as many as twenty-six stand up shows a year. In her eyes, humor and comedy are not just innate, they are crucial "tools" that have an evolutionary purpose. Her belief in comedy as an educational tool comes from the role of laughter in social bonding.
"Shared sense of humor is one of the top characteristics of long-lasting relationships," she says—be they romantic, platonic, or familial.
What people find funny varies, but everyone reacts the same way to a good joke–they laugh. A study conducted by researchers in Finland and the United Kingdom, "Social Laughter Triggers Endogenous Opioid Release in Humans," confirmed Jasheway's findings that humor brings us closer together and improves our emotional state, as "results show that social laughter triggers endogenous opioid release, which could provide a powerful way for modulating social bonds in groups."
Rather than focus on "funny-ness" and God-given talent, Jasheway is a firm believer in formula. As a proudly self-labeled feminist, Leigh Anne also believes her comedy classes can help women unlearn as much about comedy culture as they learn the eight joke structures, such as the rule of three (when you mention three things in tandem and the third is wildly different), the callback, or the surprise punchline.
Story-based, relational humor is typically associated with the "feminine." Jasheway laments that masculine humor is "superiority humor," littered with pranks and sarcasm, and less effective at creating those aforementioned bonds. It's also the style that gets the most attention.
"We've let men decide what is funny," Jasheway says. "With women, especially older women like myself, we've been socialized to think that's not an appropriate response."
For her, comedy is sometimes a therapeutic outlet for women's rage and anguish. Leigh Anne chuckles about even the best of men, "I've got to get this out of me or I'm going to find them and castrate them!"
While women are still minorities in comedy, they often make up a majority of Matthews's classes. One alumna, Sue Alfieri, has taken his curriculum into her comedy moonlighting gig.
"I'm not your typical comedian because I'm a mom and I work in corporate America," Alfieri says. But, she is quick to point out that this has not been a disadvantage. "Women are the ones who are gonna be buying tickets."
She took Matthews's beginner class years ago after a successful stint with The Moth, a national storytelling workshop and podcast in which novelists, writers, and closeted poets write and perform impactful stories from their personal lives. As Alfieri's stories were always funny, someone recommended she go back to school for it, so to speak. So she did.
After the beginner class, Alfieri took the one-on-one sessions and advanced class multiple times. She has taken her "weird and quirky" persona to Cobb's Comedy Club and the Punchline, two of San Francisco's most prestigious comedy venues.
It would appear then, that comedy is no different than dentistry or literary analysis, in that it can be taught. But is everyone funny? The comedians "getting paid like a stripper" in singles and smoking cigarettes outside the bar after a gig think not.
"Everyone? No, no, no, no. It's certainly not something you're born with," Allison Hooker says bluntly in between the two gigs she has booked at Trademark and Copyright in San Francisco's SoMa district for her comedy collective, #HellaFunny. She's never taken a course.
"When most comedians start, they're terrible," she remarks.
One budding comedian who won over the crowd is John Gab, a Bay Area native and self-described "fat, hipster gnome" with a bleached man bun. Don't stop reading. His comedy career has just entered its second trimester after a friend working at comedy venue The Punchline put his name down for a comedy podcast event.
"I have friends that took that class twice," Gab says. "I don't have the money. Comedy isn't something that you can really teach . . . You might eat a pile of dicks, you might not."
Perhaps unknowingly, Gab does utilize one of Matthews's and Jasheway's student learning objectives: "turning things in my life into things people will laugh at." Some of these things including having a friend spike a Tums with acid and put it back in the bottle, watching the Great British Baking Show while on psychedelics, and the abandonment of an ounce-bag of weed in the back of his car after driving for Uber.
So, maybe comedy school, like dirty humor, just isn't for everyone. But, there's no denying that some people do gain a lot from them. Kaiser Leib, a startup software engineer from Montana, saw the class as an opportunity to act on his comedic potential.
"I had this notion I was gonna come out of the class and I was gonna go out and be famous," he says. There's a resignation in his voice that comes with the acceptance of the fact that he likely won't get the Hollywood treatment. Though, he does have a tech industry salary to comfort him.
Since earning his comedy diploma, Leib has participated in open mics and has become entrenched enough to be able to book shows for himself and his colleagues. While comedy might never be his day job, Leib believes the class is a crucial incubator of self confidence and validation.
"For a lot of people, they're too scared to start," Leib says. "The purpose of the class is that you come out with permission to start."