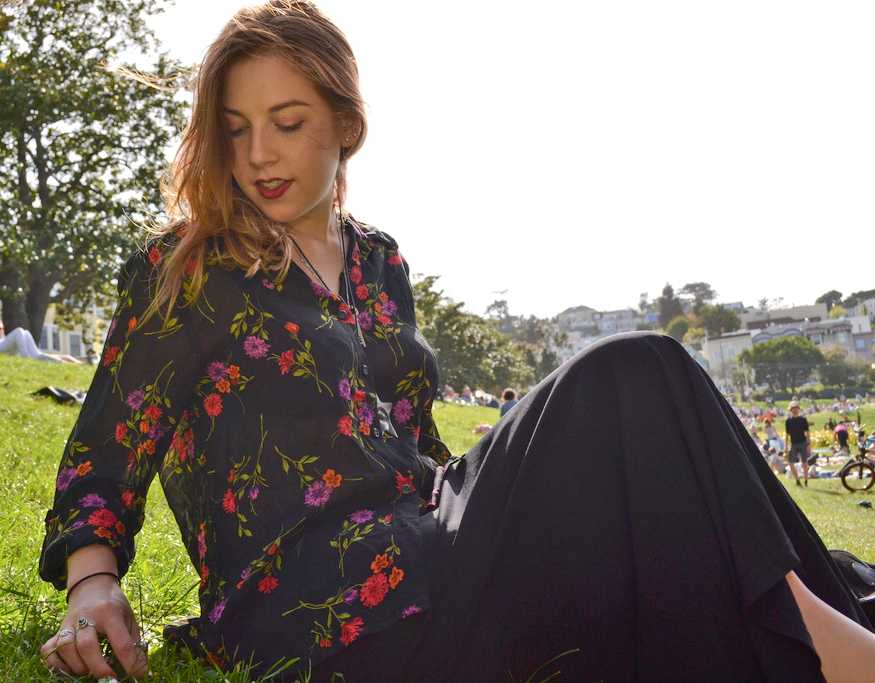 Written by Haley Brucato
Photos by Juliana Severe
The familiar smell of musty furniture wafts through aisles of old books, dusty knick knacks, and faded jeans. Although these items are one person's trash, they will soon become another's treasure. The thrill of hunting for vintage items buried in the back of Grandma's closet for all those years bring shoppers to thrift stores day after day, and keeps businesses thriving and growing all over San Francisco.
Whether it be a fashionista innovator on the hunt for some inspiration, or a single mom as she searches for affordable clothing for her growing child, used goods stores offer something for everyone. The unexpected surprises that await can allow many customers to truly define their personal style choices with articles from all decades, which fuel the power of recycling and repurposing.
With the quirky and eccentric street style that is associated with modern and chic young adults, thrift stores are experiencing a recent spike in popularity and price inflation. Because of this, people truly in need who can't afford new clothes, have to compete with bargain hunters and antique dealers who don't mind paying the higher prices. Used sweaters that were previously marked at $3 can now be found for as much as $10, almost reaching the same price as new items from popular clothing stores like Forever 21.

Pamela Gee, 29, is an eco-friendly kindergarten teacher at Longfellow Elementary school. She frequents The Salvation Army because of its vast selection and affordability.
"I've been thrift shopping with my dad since I was a kid," explains Gee. "That way I don't have to buy new things that they use more energy to make."
She buys clothes, housewares and books for the classroom. Gee says the pricing is fair at this store but the "quality clothes" section in the back, full of brand-name items, is overpriced. The furniture is too, sometimes running as much as $600 for a couch — nearly as much as the popular furniture store Ikea.
There are currently more than 25,000 resale, consignment and not-for-profit thrift shops in the United States. Thrift stores saw a seven percent increase in the past year and 18 percent of Americans shop regularly at thrift stores, compared to the 21 percent who shop at major department stores, according to the National Association of Resale Professionals.
Thrift store chains like Goodwill have become increasingly commercialized, and in response, raise their prices in a tough economy when people need cheap merchandise the most.
For those not equipped to sift through racks upon racks of disarrayed clothing and piles of donations, the Goodwill at 2400 Irving street is perfect for a quick stop on a Sunday afternoon for amateur thrifters. It is a small, consolidated store surrounded by family-owned businesses in the Sunset district of San Francisco. Unlike its counterparts, the store contains only about a dozen racks, displaying an array of clothing accessories, electronics, housewares and shoes. Though Goodwill is thought to be the most expensive thrift store chain by dedicated thrifters, this location frequently has discounts. The clothing is organized by color and size, and the cleanliness and upkeep is a surprising contrast to most other thrift stores with have items littered on the dirt-ridden floors and trash shoved into corners. Within the ample selection of electronics, a faint smell of Febreze floats through the aisles.
Holly Grant wanders into the store after she drops off some donations, and notices the 40 percent off all bottoms sale in the store and 50 percent off red tagged merchandise.
"I'm kind of a hippie and I believe in bringing home one thing and getting rid of two things," says Grant as she sweeps her long brown hair behind her ear. "I'm a minimalist. Goodwill is okay, but because of the popularity it's more expensive and unfair for people who really need it."
She looks through a rack of color-coded jackets marked at $10, some with the bright red tag sticking out of the sleeve indicating a discount.
For those hyped-up on caffeine and feeling up to a challenge, the warehouse-sized Salvation Army that stretches halfway down the block at 1500 Valencia Street is test in patience and determination. Although some digging is required, their prices are unbeatable. Knee-deep crates of purses line the center tables, and the clothing is organized by color and type so only the truly dedicated bargain hunters end up leaving with armfuls of treasures.
Out of the Closet at 1295 Folsom Street is a quirky nonprofit store that commendably donates 96 percent of its profit to people with HIV, through the AIDS Healthcare Foundation and some stores even offer free HIV tests. They have been expanding their chain, and they recently opened a location in Amsterdam.
Store employee Masia Martinec believes Out of the Closet's prices are affordable and the stores carry items for all types of people, keeping the business thriving.
"I'm glad the prices are good," Martinec says. "We have a lot of different stuff here and many people like coming in to support our cause."
The thrift store business is mushrooming thanks to tough economic times and the growing support for preserving the planet's resources with recycling and reusing efforts. Despite this, some stores have reached nearly unaffordable prices for many poverty-stricken residents. But if people really know where to look to find the best bargains, they'd be surprised to see how many hidden gems are embedded into the blocks of San Francisco.