Nothing says 'welcome home' more than throwing up a week's worth of food.
Sheila Huitron was puking her guts out for days, upon her return to San Francisco after a couple weeks' long vacation to Indonesia.
"I couldn't keep any food down at all," she stresses. "Because it lasted for days, it was finally time to try to go to the doctor."
Huitron is a nineteen-year-old student at SF State and, like many at this campus, had moved away from her family in Southern California. While living in the Bay Area, she has built a strong network of friends and maintained a comfortable relation with her landlady, but still has no direct access to a car.
At the urging of one of her best friends, twenty-three-year-old SF State student Anthony Gamboa, they arranged to leave for the hospital. An ambulance was absolutely out of the question.
"If I'm not unconscious and I'm still breathing, Uber Express me," Huitron laughs. "I've had so many experiences with needing to go to the hospital. I can't afford that."
So, Gamboa ordered the Uber ride that would take them straight to the Daly City Kaiser Permanente Urgent Care. They informed the driver that is was an emergency situation and they needed to get there as quickly as possible. Huitron felt violently sick the entire time, and had no idea what was wrong.
When at the hospital, she gets looked after by a medical professional, and receives IV treatment for dehydration. After a few tests, nothing is conclusive, and the two of them order another ride home to Parkmerced.
The round trip cost for emergency transportation? Approximately forty dollars.
Twitter has been circulating a popular tweet by @reesxe that reads, "If I have a medical emergency don't U DARE call an ambulance y'all better uber my ass to the hospital bc we not about to pay 5,000 for a ride in the wee-yoo wagon." Despite slight exaggeration, the sentiment received about 75,000 retweets and 277,000 likes.
According to Nick Rapoza, a kinesiology major working as an emergency medical transport (EMT), the average cost for an ambulance ride is one thousand to two thousand dollars, easily, without any form of health insurance.
"The biggest expense is the monitoring during the ride," Rapoza says solemnly.
The price difference can be attributed to labor costs and monitoring devices that ambulance companies can perform. Rideshare drivers can offer you a cheaper seat, and perhaps some complimentary snacks.
Gamboa wholeheartedly agrees with Huitron's decision to call an Uber to the hospital. To him, an ambulance is not even an option.
"I would also wait to the point I would definitely need to go to the hospital, before making the decision to Uber," says Gamboa.
More folks seem inclined to put their faith into the hands of rideshare drivers over licensed medical staff. An ambulance is an extra expense most working-class people cannot foot the bill for. Let alone university students living in the Bay Area.
The San Francisco County Fire Department lists fee estimates from 2018 for ambulance services. A 'Basic Life Service' ride in San Francisco can cost $2,098 total. There is also a $39.73 per mile charge, and a 'treatment without transportation' service can cost $466.
Now, emergency is not a universal term. There can many different situations categorized as emergency situations, but which ones warrant an actual need for ambulance services?
Most ridesharing app users take a vehicle from Point A to Point B, no medical services needed. Most drivers expect the same, although things do not always turn out that way.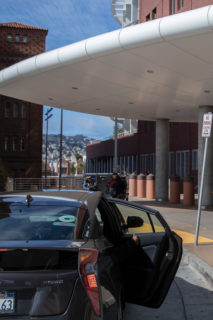 Alex Guibert, a twenty-six-year old SF State cinema student, has driven for Uber for about a year. It is a convenient job for him to have while he is enrolled in school.
"Ninety-nine point nine percent of the time, it's pretty cool," Guibert says smiling. He attests that most of his customers are respectful, and in some situations, can actually help him network in the realm of cinematography.
"I did have one experience when picking up a customer," Guibert begins slowly, "She sent me a request in the app that said, 'Please pull up to the curb as close as possible.'"
Guibert says he assumed there was some sort of disability involved with the request, so he pulled up to the curb as per the riders' request. He describes a woman wobbling toward the car being supported by a man, and the man helped her into the car.
"She gets in by herself and goes, 'I need you to drive kinda fast, I think my ankle is broken,'" Guibert recounts, a bit sheepishly.
Unfortunately, there was not much that Guibert could do about the speed. He picked up his rider on a busy street in downtown San Francisco, during major afternoon traffic congestion. The destination was an urgent care facility in the Marina district.
"I'm not like an ambulance, I don't have any bells and whistles to get people to move," the Uber driver remarks, recalling the nervousness and responsibility he felt in that moment.
This is a mild call as far as ridesharing medical emergencies go. Guibert even admitted he once drove himself to a hospital for a broken finger, out of necessity.
"But I don't have the heart to say no," Guibert admits, his tone getting soft, "I feel obligated to see them through to their destination."
Though Uber may be the cheaper alternative, ambulance services provide more than just a ride to the hospital. Unlike Guibert, Rapoza works as an EMT who takes patients between medical facilities and, occasionally, handles emergency calls.
"I want to work for 911," Rapoza says good-naturedly, "But someone has to get that old lady somewhere."
Rapoza has one of those personalities that puts everyone else at ease. He's cordial and charismatic, with a personability that clearly helps in his line of work.
"People get confused about what an EMT is," he says, "It's not our job to diagnose people. We can't even diagnose someone as dead."
He further explains that the role of an EMT is to treat their symptoms until they can be transferred into the hands of an advanced medical professional. They are not authorized to determine if someone is officially deceased, but rather can perform up to seven minutes of resuscitation in a revival attempt.
EMTs are usually first responders to a medical transportation scene, and possess the most basic level of medical know how. Rapoza took a rigorous eight week course to pass his school certification exam, and then took a national certification to confirm his medical prowess. Generally, EMTs are not certified to perform treatments involving needles or breaking the skin.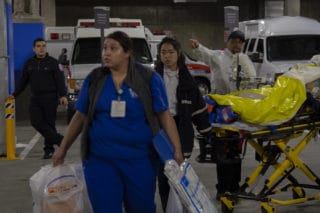 "There are four questions we usually ask," the kinesiology student explains. These questions generally involve asking potentially disoriented clients their name, the current date, why they need medical services, etc. If the person in need cannot respond coherently to any or all of the questions, they may be considered a danger to themselves, or others.
"If you can't vouch for yourself, we can't let you go," he says shrugging.
It is his job to be a patient advocate, to verbally check in with anyone requiring their services on scene and direct them to the best course of action suiting their immediate health. Patient advocacy means fighting for someone's well-being, even if they might be resistant.
Health is the immediate priority, money is not.
For some situations, like broken bones and nausea, it's possible to avoid taking an ambulance. Consciousness might be a good place to draw the line at 'emergency.'
"If you can handle it, handle it. But don't put someone's life over money," Rapoza says sternly.
Though far from their originally intended purpose, ridesharing companies may be recognizing how they contribute to the medical community.
As of April 22, 2019, Uber announced it would work with city officials in San Francisco to improve emergency response times. Uber will provide rider location data to the San Francisco Department of Emergency Management and RapidSOS, an emergency communication company, and will directly contact local police officers.
Uber will add an emergency button to the app, which sends driver, rider, and vehicle information to the aforementioned parties. The company has established this feature in response to reported sexual assaults by drivers, as well as any general emergency. However, spotty data usage may deter the effectiveness of location finding.
In addition to its usual ride offering services, Uber Health is a more recent initiative launched by the company. This is not an emergency situation service. Uber Health aims to take patients and caregivers to and from their medical appointments, with the ability to schedule rides ahead of time. The company has hired two healthcare professionals, Aaron Crowell and Dan Trigub (from Lyft), to their staff to aid their introduction into medical transport.
Ridesharing services are evolving to meet consumer demand. Uber drivers might have to learn how to adjust. Guibert offers some advice to other Uber drivers that may get a rider in distress, or in need of medical attention.
He smiles warmly and assures, "keep your cool, it's just another ride."